Hollywood Celebrities With Famous Godparents That Will Surprise You
Given that Hollywood is such a small world, it's not a surprise when celebrities become tight-knit with other celebrities. It's also less surprising when these stars turn to their famous friends to be their kids' godparents. Some celebrity godparents have more than one godchild, including Sir Elton John, who now has ten, as of writing. There are also godparent-godchildren tandems that continue to throw us for a loop, like Macaulay Culkin being a godfather to Michael Jackson's children and Hugh Grant being the godparent to his former girlfriend's son, Damian Hurley.
To this day, there is a vast array of Hollywood pairings whose familial connection astonishes us to a huge degree. From Jamie Lee Curtis and Jake Gyllenhaal to Eva Longoria and Harper Beckham, you'd be surprised to know how these celebrity-godparent relationships began.
While this interaction seems far-fetched for us ordinary people, it's nothing but normal for A-list celebrities. However, we still think that these celebrities and celebrity children feel an immense sense of pride for having renowned individuals in their lives. Without further ado, here are 50 celebrity godparents and their famous godchildren:
B.J. Novak | Katherine Kaling – Mindy Kaling's Daughter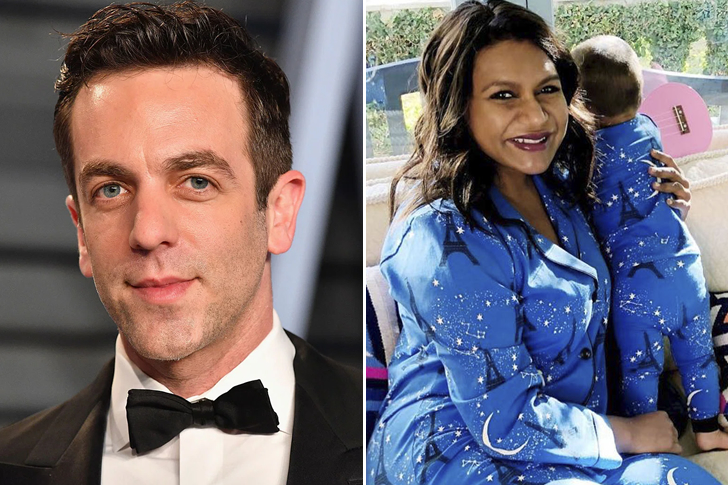 B.J. Novak first met Mindy Kaling on the set of The Office, and the duo's relationship has gone on from dating to becoming best friends. Their bond lasted past their time on the sitcom, and they have become friends for over a decade already. To prove how much they value each other, Kaling made Novak the godfather to both of her kids, including Katherine Kaling.
Kaling opened up about the actor's role as her daughter's godfather in 2019. She said that Novak is more like a family than a platonic friend. He even comes over to her house once a week just to hang out with little Katherine. While the comedienne has never revealed the identity of her kids' father, she is happily raising her family as a single mom. She continues to work hard to provide home security and a good future for them.
Bono | Vivienne and Knox Jolie-Pitt- Angelina Jolie and Brad Pitt's Kids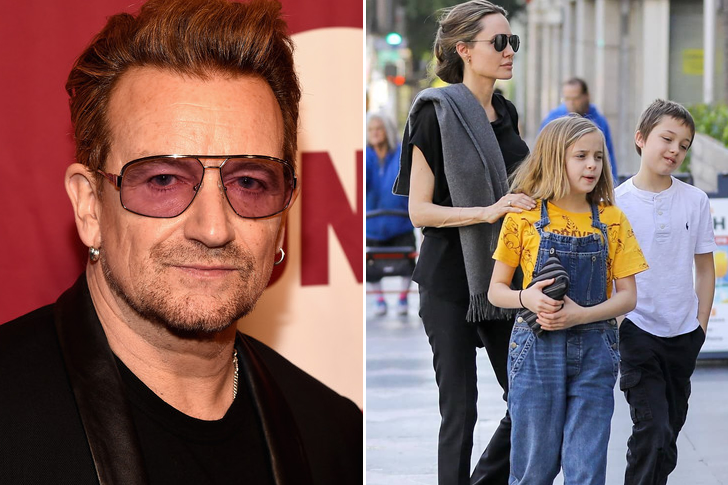 Vivienne and Knox are the twin children of A-list actors Angelina Jolie and Brad Pitt, and it may come as a surprise that they're 12 already. Indeed, time flies so fast. We can't help but recall when they were just these two adorable toddlers walking on the red carpet events with their famous parents. You would also be amazed how they have a renowned godparent too. Pitt and Jolie asked no other than the U2 frontman, Bono, to be their twin's godfather.
The golden twins are the two youngest members of the Jolie-Pitt clan. Both Knox and Vivienne have enjoyed their taste of the show business. Of course, they also inherited their parents' talents in Hollywood. A five-year-old Vivienne earned acting credit for playing the young Princess Aurora on-screen alongside her mom in Maleficent, while Knox took on the role of Ku Ku in Kung Fu Panda 3.
Lizzy Caplan | Birdie Silverstein- Busy Philipps's Daughter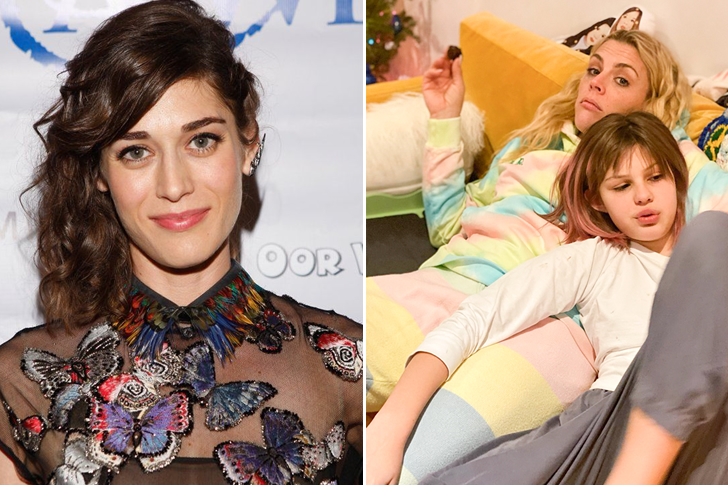 Lizzy Caplan starred alongside Busy Philipps in the NBC series Freaks and Geeks. The two became good friends to the degree that Philipps asked Caplan to be her daughter's godmother. Birdie Silverstein, who is now 12 years old, is often the topic of her mom's podcast titled Busy Philipps Is Doing Her Best. While the teenager shies away from the limelight, her famous mom shares snippets of her on social media from time to time. Philipps recently appeared in Search Party and Girls5eva. The 41-year-old actress has also hosted her own talk show called Busy Tonight from 2018 to 2019.
Meanwhile, Caplan continues to rock the Hollywood scene, appearing in films such as 127 Hours, The Interview, and Extinction. She is married to actor Tom Riley, whom she met while filming Now You See Me 2 in London in 2015.
Dakota Johnson | Ezer Billie White – Addison Timlin and Jeremy Allen White's Daughter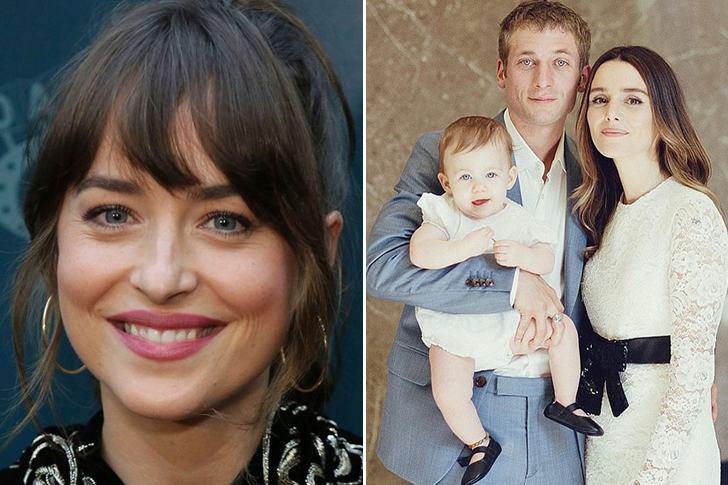 Dakota Johnson is Ezer Billie White's godmother after becoming friends with Ezer Billie's parents, Addison Timlin and Jeremy Allen White. The Social Network actress also served as a witness at their intimate wedding ceremony in Beverly Hills back in 2019.
Johnson, famous for starring in a wide range of movie genres, is the granddaughter of actress Tippi Hedren and the daughter of actors Don Johnson and Melanie Griffith. Having spent a significant time on film sets with her famous parents, she developed an interest in acting during her youth. Her parents, however, discouraged her from pursuing the industry until she graduated from high school. After completing her secondary education, probably without any student loans, she took acting classes and landed minor roles in films. Her breakthrough came in 2015 when she portrayed Anastasia "Ana" Steele in the movie based on E.L. James' novel.
Dolly Parton | Miley Cyrus – Billy Ray Cyrus' Daughter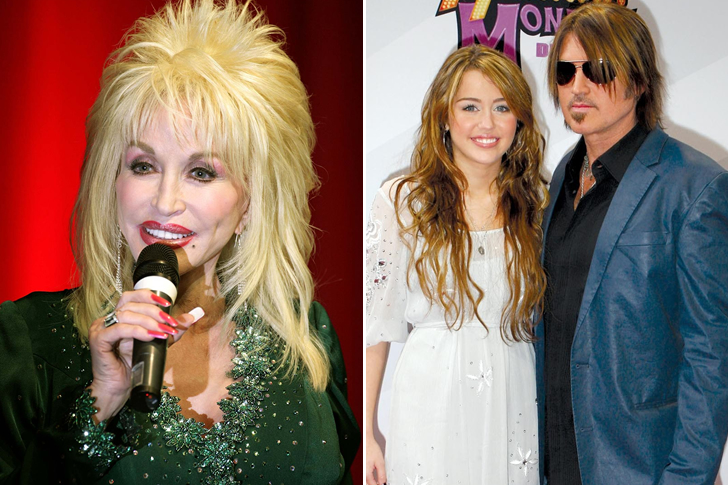 Country legend Dolly Parton became friends with fellow artist Billy Ray Cyrus in the '90s. When Miley was born, Cyrus asked her to be the little child's godmother. Later down the line, the godmother-goddaughter tandem collaborated at Dollywood's anniversary celebration in 2010. They also performed together and brought electricity on stage at the 2019 Grammy Awards. Parton also appeared on Disney Channel's Hannah Montana as a way to support her goddaughter.
Parton, now 75 years old, still has no plans to retire from the entertainment industry. She recently released a Christmas album called A Holly Dolly Christmas and a book titled Songteller: My Life in Lyrics in 2020. Since the mid-'80s, she has supported many charitable organizations, primarily through her Dollywood Foundation. On the other hand, Miley Cyrus also makes waves in the music scene until now. She continues to release songs and perform on music tours.
Zach Braff | Rocco And Wilder Faison – Donald Faison's Children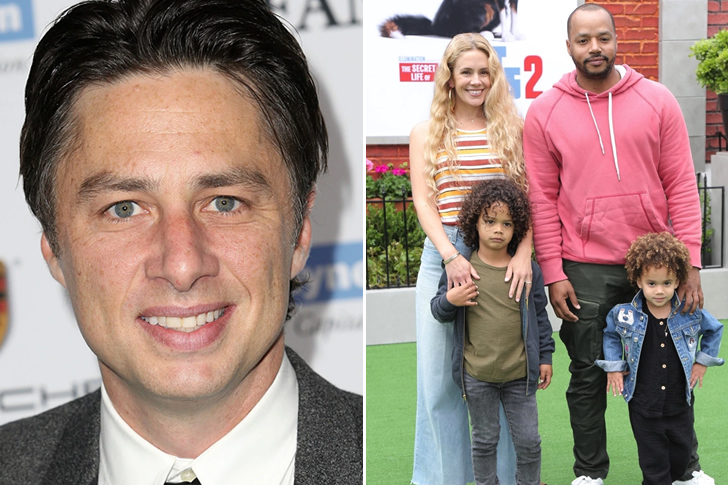 Zach Braff is so close with his Scrubs co-star Donald Faison that he's the godfather to Rocco and Wilder Faison. Faison is the proud father of these two kids, and he fondly shares their cute photos on Instagram. In a recent post, the actor shared an image of Rocco and Wilder, who showed off their curly manes. We can see how his adorable kids closely resemble him.
Aside from Scrubs, Faison also appeared in Next Day Air, Remember the Titans, and Something New. He is also a voice talent who has worked in a few animated series. His great friend, Zach Braff, is also a voice actor who has an upcoming comedy film titled Shriver. Both Braff and Faison made investments in a podcast called Fake Doctors, Real Friends, where they happily share their stories and experiences while filming Scrubs.
Drew Barrymore | Frances Bean Cobain – Kurt Cobain And Courtney Love's Daughter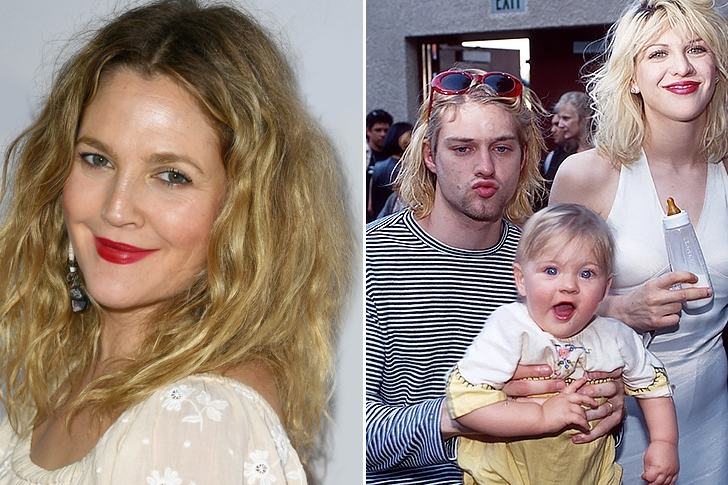 Back in the 1990s, Drew Barrymore spent a lot of time with Courtney Love. The Doll Parts singer even asked the female star to be her daughter's godmother. While the two didn't remain as close as they were, Barrymore is still a godmother to Frances Bean Cobain.
As a child, Frances was raised by her mom, aunts, and paternal grandmother after her father, Nirvana's frontman Kurt Cobain, passed away. She attended Bard College, where she studied art. In 2010, Cobain debuted an art collection in Los Angeles under the pen name "Fiddle Tim." She had another art exhibit in 2017 in Pasadena. Like her famous parents, she dabbled in singing for a while and did modeling too. When she turned 18, she was appointed by family lawyers to control her father's publicity rights and inherit 37% of his estate.
Lady Gaga | Zachary Furnish-John And Elijah Furnish-John – Elton John And David Furnish's Sons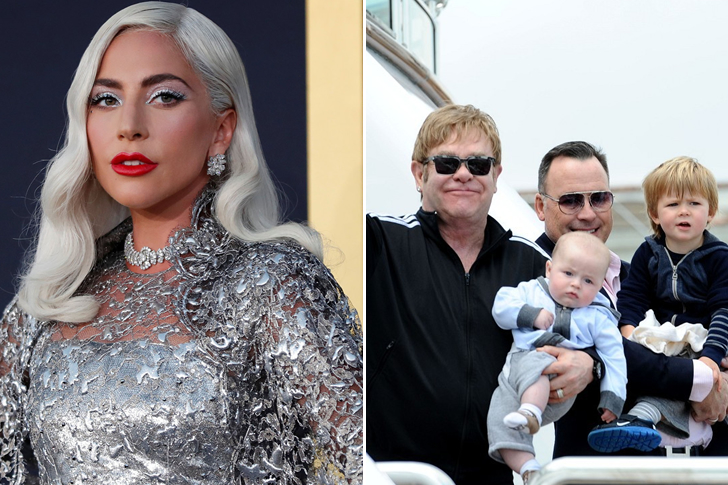 Sir Elton John performed with Lady Gaga at the 2010 Grammy Awards, and since then, the two iconic musicians became close friends to the point that Gaga became the godmother to his children. After the Born This Way hitmaker won an Oscar in 2019, her godchildren, Elijah Furnish-John and Zachary Furnish-John, reportedly sent her flowers and a handwritten note.
Sir Elton John met his now-husband, David Furnish, at a dinner party in 1993. They married on December 21, 2014. Together now for almost 30 years, they welcomed two boys into their lives, Zachary and Elijah, via surrogate. At the time of Zachary's birth in 2009, the singer credits his child for bringing immense joy into his life. Their second child, Elijah, was born via the same surrogate in January 2013. As seen on their photos on social media, the two lovely kids definitely lit up their parents' lives.
Elton John | Sean Lennon – John Lennon's Son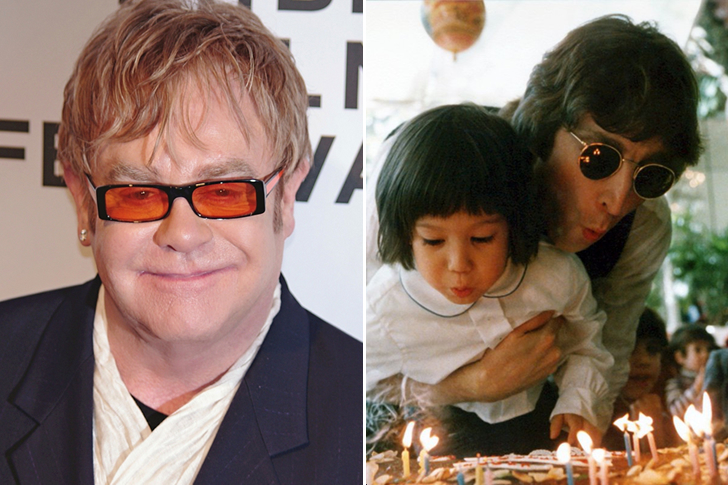 In case you don't know, John Lennon and Elton John shared a good friendship. Lennon even had his last public appearance at the singer's concert in 1974. The late Beatles singer also named the Your Song hitmaker his son's godfather, which just goes to show their degree of closeness.
Sean Lennon was born to John Lennon and Yoko Ono in New York City. Did you know he and his dad share the same birthday? Yes, they were born on October 9. Like his famous dad, the younger Lennon is a songwriter, producer, and multi-instrumentalist. He has released two solo albums titled Friendly Fire and Into the Sun. He has been in a relationship with fellow musician Charlotte Kemp Muhl, with whom he formed a band. Much of the musician couple's work is done at their studio in Greenwich Village. It's safe to say that Lennon can call his godfather anytime he needs help with his music.
Eva Longoria | Harper Beckham – David And Victoria Beckham's Daughter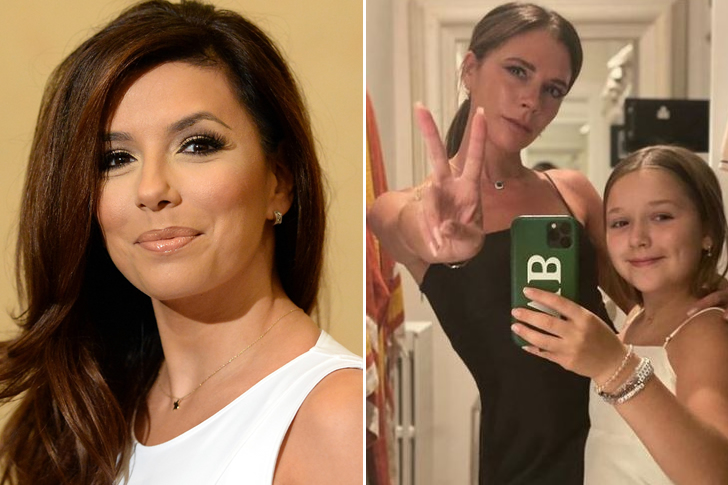 As you probably know, Eva Longoria is close friends with Victoria Beckham, who served as a witness at her 2016 wedding. The Desperate Housewives actress once revealed she often looks to her close friend for parenting advice. Longoria later became Harper Seven Beckham's godmother.
Named after her mom's favorite novelist Harper Lee, 9-year-old Harper Beckham helps out with her parents' charity work, keeps bees, plays football like her dad, and chooses her own designer clothes. She is already given a lot of credit for her incredibly chic and individualist style, even at a young age. People are now considering her as an even bigger fashion icon than her famous parents. Her old clothes are sold on the market, with the profits donated to the charity Save the Children. The young Beckham also enjoys horseback riding, ballet, cooking, and drawing, among many other things.
Henry Winkler | Bryce Dallas Howard – Ron Howard's Daughter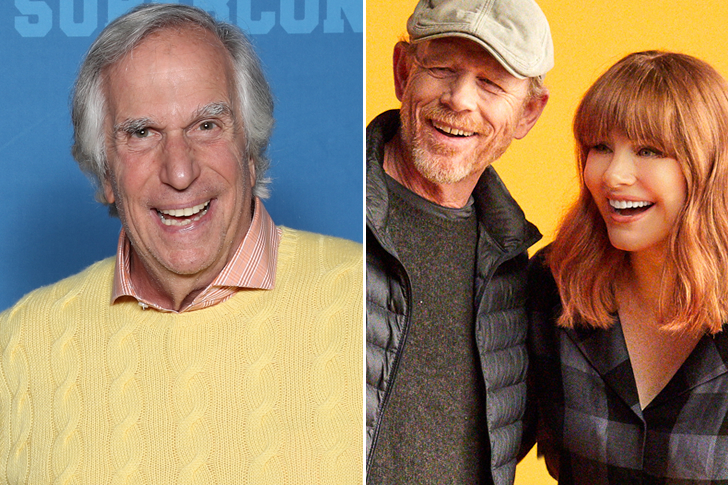 Ron Howard starred on Happy Days with Henry Winkler. He later asked him to be his daughter's godfather, to which The Kominsky Method actor said yes. The director once shared he and Winkler became fast friends on set because they "just clicked." He also added that their bond continues all these years later.
Meanwhile, Bryce Dallas Howard would go on to work in the spotlight like her dad. She attended New York's Tisch School of the Arts and completed her degree in 2020. Howard is best known for her performances in Jurassic World, Rocketman, 50/50, and The Help. She tied the knot with actor Seth Gabel in 2006, with whom she has two kids. The 40-year-old actress is set to reprise her role as Claire Dearing in the 2022 film Jurassic World: Dominion. She is slowly becoming like her dad and pursuing directing as well.
Molly Bernard | Banks Violet Bair – Hilary Duff's Daughter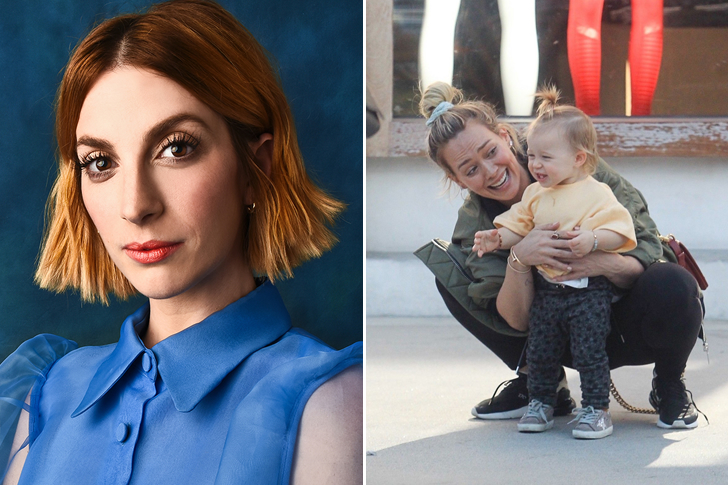 Hilary Duff named her Younger co-star Molly Bernard the godmother of her second child, Banks Violet Bair. Bernard reportedly officiated the Lizzie McGuire actress's wedding ceremony to musician Matthew Koma in December 2019. The two actresses have been through thick and thin, and Bernard has even been there for milestone moments, including the home birth of her baby girl in March 2021.
Before becoming a mom to three kids, Duff was a teen idol in the early 2000s. She became an icon because of her performance in the television series Lizzie McGuire and achieved more prominence when she starred in Cadet Kelly, Raise Your Voice, and A Cinderella Story. She continued her Hollywood career as an adult and has acting credits in films like The Haunting of Sharon Tate and Flock of Dudes. The actress is also an accomplished singer with five studio albums to her name.
Hugh Grant | Damian Hurley – Elizabeth Hurley's Son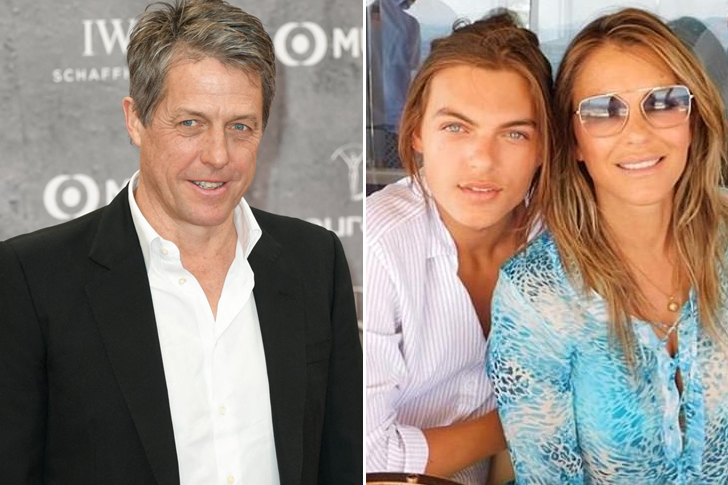 Actor Hugh Grant dated Elizabeth Hurley for 13 years until they went their separate ways. It came as a surprise when the actress called on the Notting Hill actor to be her son's godfather, so we assume that their breakup was amicable.
Damian Hurley was born to the actress and businessman Steve Bing. Like his famous godfather, the young Hurley entered show business in 2016. He was cast in The Royals as Prince Hansel von Liechtenstein, starring alongside his mom. He also reprised the role in a 2018 episode of the show. During that year, Hurley signed a contract with the modeling agency Tess Management. He received credits in a fashion campaign with makeup artist Pat McGrath to promote the collection Sublime Perfection. Aside from Grant, Damian Hurley's other famous godfathers are Elton John, David Beckham, Patsy Kensit, Heath Ledger, and Denis Leary.
Jacqueline Bisset | Angelina Jolie – Marcheline Bertrand And Jon Voight's Daughter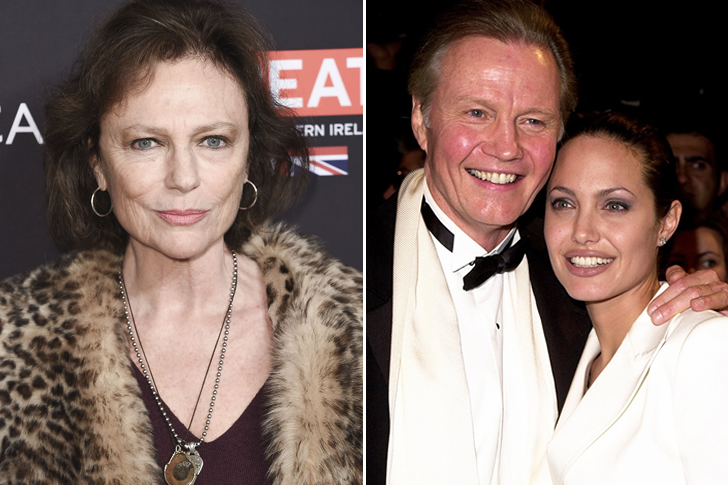 Jacqueline Bisset ended up being Angelina Jolie's godmother. How? Well, she was a dear friend of Jolie's mom, Marcheline Bertrand. The godmother-goddaughter duo has undeniable similarities in beauty and talent, as they are their generation's top movie stars.
Bisset began her career in 1965 and received a most promising newcomer award for her performance in the 1968 film The Sweet Ride. She went on to gas up her career in the '70s and '80s, receiving movie roles every year. Until today, she continues to work in the film industry. On the other hand, Jolie is one of today's biggest Hollywood stars. She made her screen debut alongside her dad in the early '80s and climbed her way onto the top for more than a decade. Her 2001 movie Lara Croft: Tomb Raider established her as a leading actress in Hollywood films.
Jamie Lee Curtis | Jake Gyllenhaal – Stephen Gyllenhaal's Son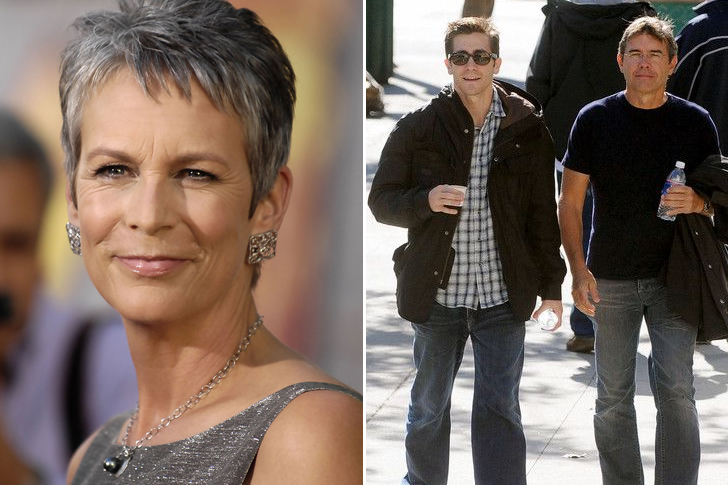 Jake Gyllenhaal is well-known in his own right, but he also has a Hollywood connection, credits to his famous actress godmother, Jaimee Lee Curtis. Many parents choose godparents for their children in the hopes of shaping their children's characters. Godparents are expected to play an active role in their godchildren's lives, from religious to practical life guidance.
Curtis has a close relationship with Gyllenhaal's parents, producer Stephen Gyllenhaal and screenwriter Naomi Foner. She's a long-time family member who has seen Jake grow up and is clearly close to his whole family. Getting Curtis as a celebrity godmother certainly didn't hurt Gyllenhaal's rise to fame in the grand scheme of things. She said she keeps an eye on her godson in the entertainment industry as well. According to Entertainment Weekly, Curtis said, "When he first started in show business, I said, 'Look, I'm your celebrity godmother." She seems to have been more than willing to mentor young Jake in the ways of Hollywood.
Jenni "Jwoww" Farley | Lorenzo Lavalle – Nicole "Snooki" Polizzi's Son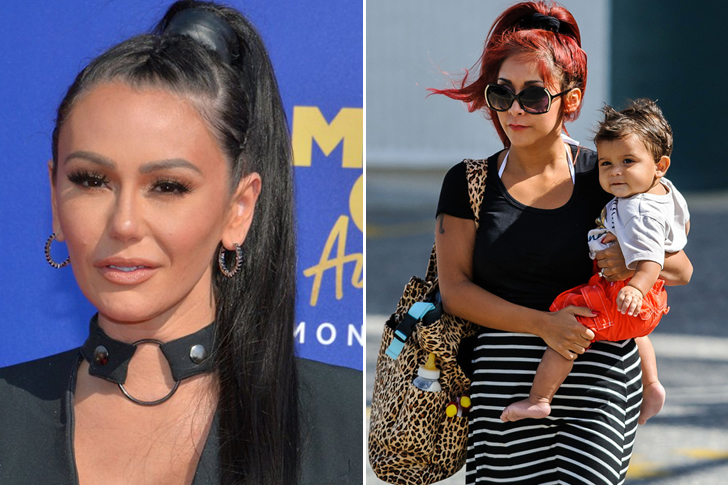 Nicole "Snooki" Polizzi's son was baptized by her MTV Jersey Shore co-star Jenni "Jwoww" Farley, who is also a reality television legend. Polizzi and her husband, Jionni LaValle, shared pictures from the event on social media with the then-7-month-old Lorenzo Dominic LaValle. Polizzi, who has more than 6.2 million followers, shared images showing that the family seemed to be having a nice time at the reception, with photos of Polizzi carrying the baby around the party being shared on social media.
Farley played godmother to Lorenzo during the reception, a role entirely different from her image as a party girl. "My little godbaby," she captioned a picture of a party favor on Instagram. Farley wrote "My love 3" in another picture of her bottle-feeding Lorenzo. To their credit, the former Jersey Shore co-stars have a close bond off-screen as well!
Jennifer Aniston | Coco Arquette – Courteney Cox's Daughter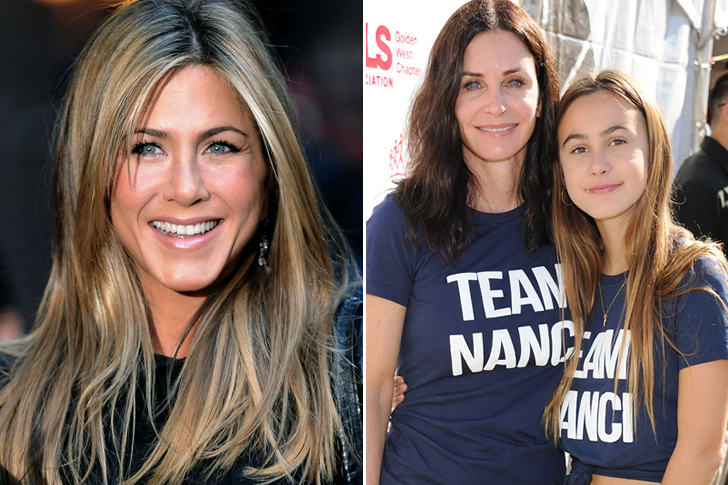 Friends is one of the most famous television shows of all time. Jennifer Aniston and Courteney Cox, who played Rachel and Monica, respectively, are not only on-screen colleagues but also real-life friends. They have been friends for over a decade and are so close that they were each other's maids of honor at each other's weddings. In addition, Cox asked Aniston to be the godmother of her daughter Coco, and Jennifer, of course, said yes.
To their credit, the actresses' friendship has undoubtedly endured the test of time. The two BFFs are serious relationship goals! Aniston once said she was a fantastic babysitter, according to the Daily Mail, so it's fair to say she babysat Coco at some point. Cox always posts cute photos and videos of Coco, while Aniston can't stop gushing about her goddaughter. She even commented on an Instagram video of Cox playing the piano as her daughter sang, indicating that she taught Coco how to sing.
Victor Garber | Violet Affleck – Jennifer Garner & Ben Affleck's Daughter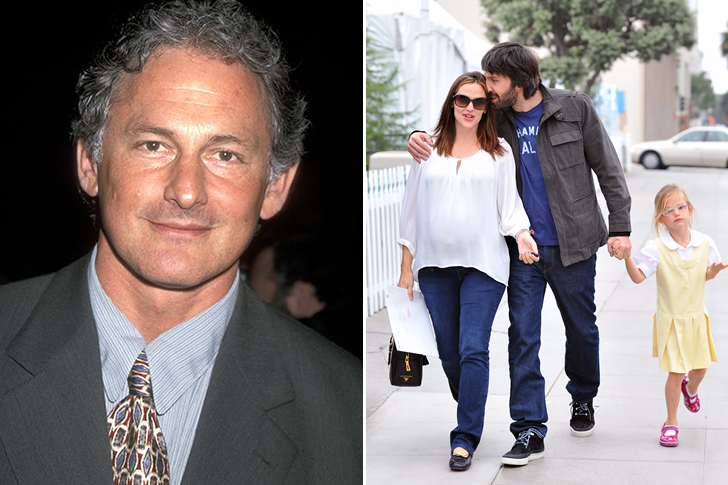 Jennifer Garner's children, whom she shares with her ex-husband Ben Affleck, have a special relationship with Victor Garber, their mother's former Alias co-star. From 2001 to 2006, Garber and Garner, both 47, co-starred on the ABC series for five seasons. Since then, the two have remained close friends, with Garber officiating the wedding of the 13 Going on 30 star and Affleck in 2005. In fact, he is also the godfather of their kids!
"Definitely," Garber said when asked by Us Weekly if he feels like a grandfather figure to Garner's children: Violet, 13, Seraphina, 10, and Samuel, 7. He added that Garner and Affleck's kids are incredibly intimidating and brilliant, which just goes to show how well they were raised. Despite the age difference between Garber and Garner, he gives her credit for taking care of him, which he tries to reciprocate as well.
Joan Collins| Cara Delevingne – Pandora and Charles Delevingne's Daughter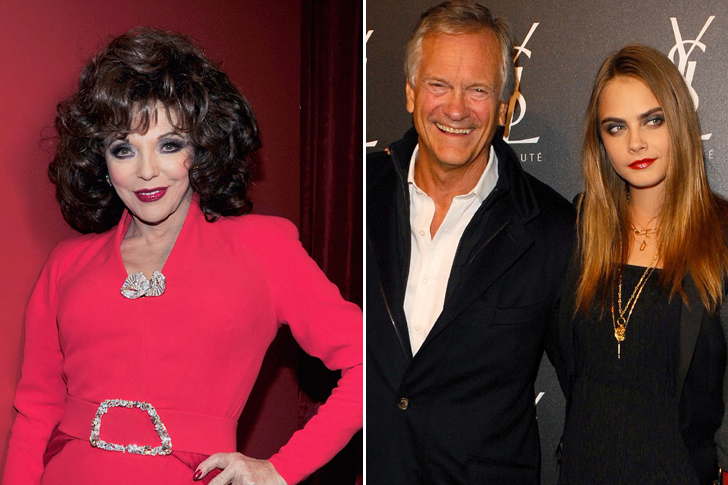 It doesn't get any better than iconic actress Joan Collins when it comes to celebrity godparents. Just ask Cara Delevingne, who counts Collins among her mentors. Although it's common for people to lose contact with their godparents over time, they have never done so. The actress has 13 godchildren, including 28-year-old actress and model Cara Delevingne, whose parents Pandora and Charles are longtime friends of the film legend.
Collins has expressed her admiration for her goddaughter, whom she credits as an "amazing girl." They co-starred in the film Absolutely Fabulous: The Movie. The Golden Globe winner, who has previously expressed godmotherly concern for Delevingne, must have also imparted some wise career advice. The model and her godmother were among those who visited Nobu's Malibu outpost recently to try their black cod dish, which just goes to show how close they still are.
Kathie Lee Gifford | Kendall Jenner & Kylie Jenner – Kris Jenner's Daughters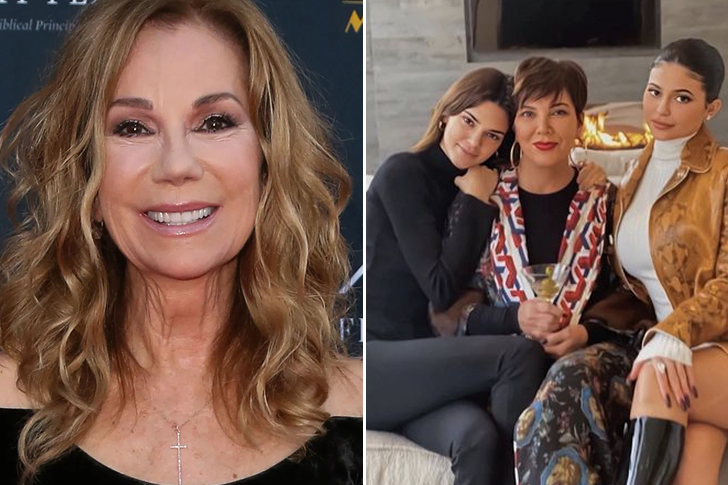 Kris Jenner and Kathie Lee Gifford have a long history together. The Keeping Up With The Kardashians and the anchor are best friends and used to go to Bible study together. There isn't a single person on the face of the earth who wouldn't benefit from having an excellent godmother who takes good care of you and guides you in life. The same can be said for Jenner's daughters Kylie and Kendall, who depend on their godmother Kathie Lee Gifford for sound advice.
Fans of Keeping Up With The Kardashians have been hearing a lot about her recently to some degree. Prior to dispensing her wise counsel, Gifford revealed that she didn't get much time with the supermodel and beauty mogul because she moved away from California when they were young. Regardless of their distance, she always advises them to remain true to themselves.
Sugar Ray Leonard | Khloe Kardashian & Kim Kardashian West – Robert Kardashian's Daughters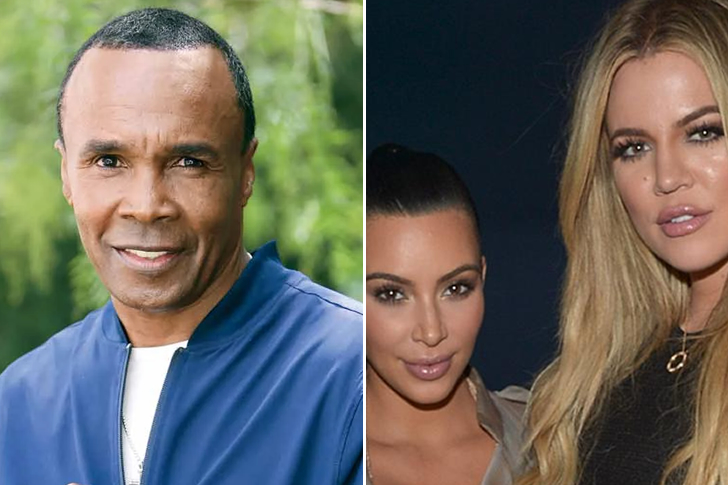 It's no secret that the Kardashian-Jenners have a slew of high-powered acquaintances. Though they are tight with a few celebrities, the reality stars consider only a few people in Hollywood to be part of their family to some degree. One individual, in particular, is such a close family friend that he has been called Kim and Khloé Kardashian's godfather.
Leonard crossed paths with many prominent celebrities, including the Kardashians, since he was an accomplished boxer at the time. Although it's unclear how he first encountered the Kardashians, a source claims Leonard became close friends with Robert Kardashian Sr., Kris Jenner, and Caitlyn Jenner in the early 1980s. Due to their close friendship, Robert Sr. and Kris asked Leonard to be the godfather of Kim and Khloé Kardashian, which he gladly accepted. Leonard has remained a close family friend of the Kardashian-Jenners ever since.
Leah Remini | Max Muñiz & Emme Muñiz – Jennifer Lopez's Twins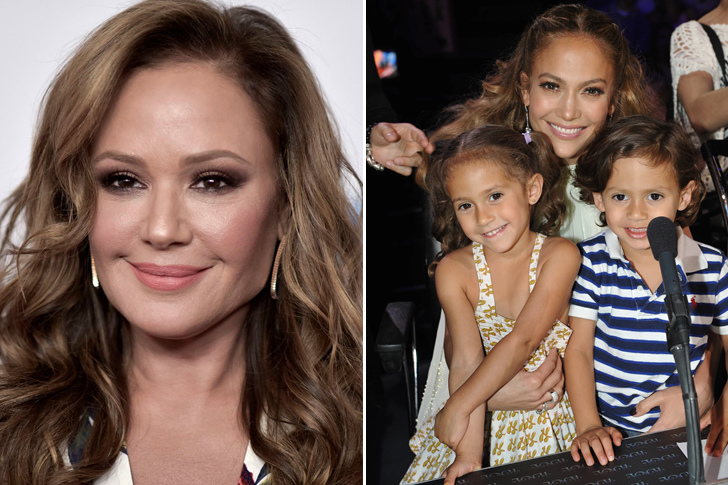 Credits to Jennifer Lopez's then-partner Marc Anthony, the Second Act co-stars were introduced for the first time in 2004. Lopez and Leah Remini have been friends since that day in 2004. When JLo's twins were born in 2008, the King of Queens actress became their godmother, and she remained loyal to the singer after her separation from Anthony in 2014.
Lopez and Remini have been friends for over a decade. Both women's careers have brought them to various places over the years, but they have always had each other's backs. The two even appeared on The View in 2018 to discuss their relationship. They said they discuss everything from their families to their wardrobes to their professions. They've reached a stage in their relationship where they're no longer just friends. We're "really similar like sisters," Remini said on the talk show, "but in a different way than sisters."
Macaulay Culkin | Paris, Michael, & Blanket Jackson – Michael Jackson's Children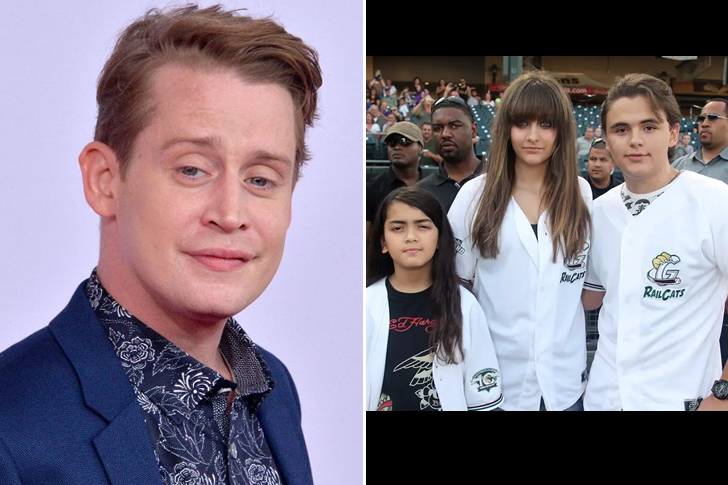 Many people are unaware that Paris Jackson and Macaulay Culkin are practically family, but they are not going to let you forget it. After receiving success for his acting credits in the Home Alone film franchise, for which he is still best known, Culkin became friends with Michael Jackson in the early 1990s and was appointed godfather to the singer's three children: Paris, Michael, and Blanket.
Culkin and Paris Jackson also got matching tattoos of two tiny spoons on their forearms in July 2018. Paris posted a picture of the tattoo she got with Culkin with a caption honoring her godfather's 38th birthday just as he returned to New York from a European vacation where he was celebrating his birthday. She also refers to Culkin as her "Uncle Mack." She included pictures of herself and her godfather wearing matching monogrammed shirts with the words "Mack" and "Paris," a picture of her wearing bunny ears on the couch with Culkin, and a photo of Culkin with his partner, actress Brenda Song, at the Louvre in Paris.
Sia | Maddie Ziegler – Melissa Gisoni's Daughter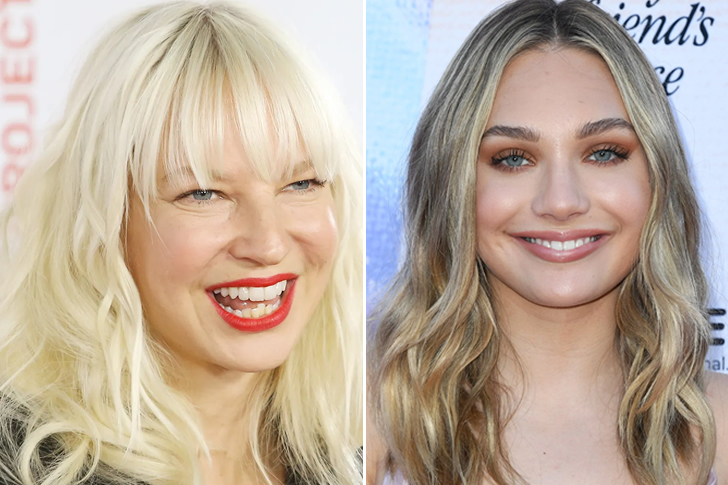 Maddie Ziegler has always regarded Sia as a fairy godmother. The singer first noticed the dancer on the reality show Dance Moms, where she appeared with her mother Melissa Gisoni and her sister Mackenzie. She then hired her to appear in many music videos, launching her career and popularity. Sia contacted Ziegler via Twitter and requested that she appear in the music video for Chandelier. She later appeared in the music video for Elastic Heart alongside Shia LaBeouf, The Greatest, Cheap Thrills, and many more.
On The Tonight Show with Jimmy Fallon, Ziegler credits Sia for acting like a real-life godmother, who will look after the young starlet no matter what happens. She was also dressed in one of Sia's dresses. Ziegler wore Sia's white, lace bridal shower dress during her late-night appearance. The pair met more than five years ago and have since become as bonded as mother and daughter. Sia finally became the godmother of the dancer.
Marisa Tomei | Zoë Kravitz – Lisa Bonet's Daughter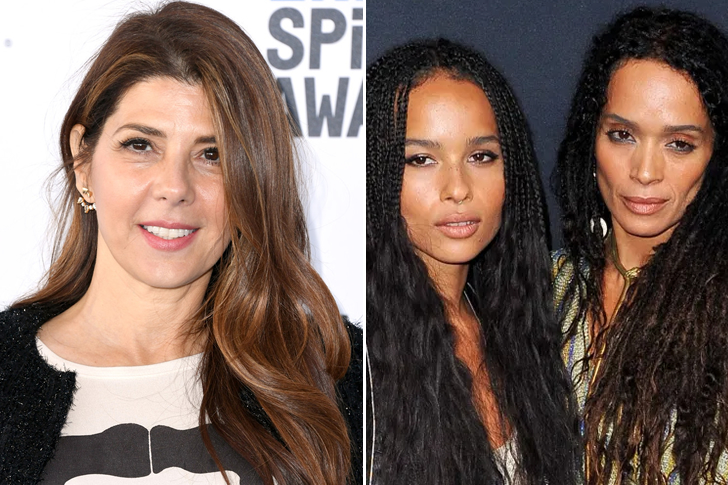 Zoe Kravitz is an icon in her own right. She has charted her own path over the last decade, ably avoiding any dynastic drama. That shows not only her talent but also her ability to handle her art and career in the same way that her parents, Lisa Bonet and Lenny Kravitz, did. Her parents are prominent figures in Hollywood, but she deserves all the credit for making a name for herself.
Zoe has a renowned godmother, the Oscar winner Marisa Tomei, who co-starred with Zoe's mother in the 1980s sitcom A Different World. Tomei starred as Maggie in this sitcom about a historically black college, with Bonet playing her roommate, Denise. During the show's production, the two became fast friends and ended up sharing a home in real life while filming in Georgia. Although the two actresses only worked together for a brief period, their relationship has lasted. Cute!
Meryl Steep | Billie Lourd – Carrie Fisher's Daughter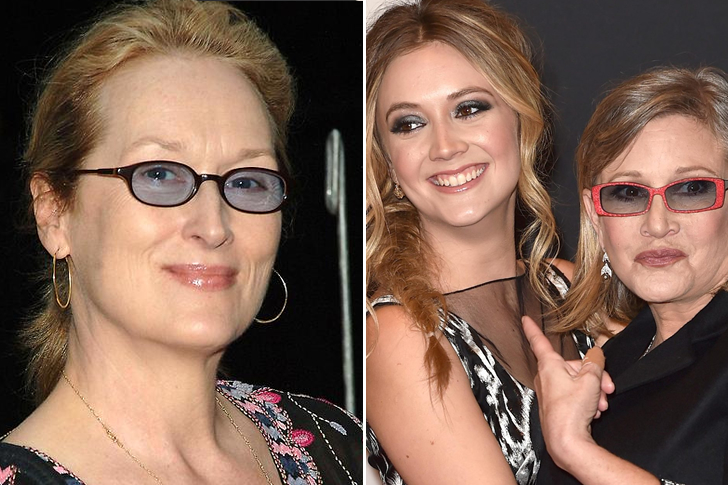 Carrie Fisher and Meryl Streep are also celebrities in their own right, with a long list of accomplishments. However, in terms of attitude, you'd swear they came from different worlds. The actresses, on the other hand, defied the odds and dug a little deeper inside themselves to find common ground in women's advocacy, defeat, and, most importantly, laughter.
The two formed an extremely close friendship. Fisher's only daughter, Billie Lourd, is Streep's goddaughter. Billie also pursued an acting career like her mom and godmother. She is best known for her acting credits in the FX horror anthology series American Horror Story and Scream Queens. She also stars in the Star Wars sequel trilogy as Lieutenant Connix. Andy Cohen asked Billie about the best part of having Streep as her godmother during a May 2019 visit to Watch What Happens Live. "I mean, she's Meryl Streep!" Billie answered.
Jake Gyllenhaal | Matilda Ledger – Michelle Williams and Heath Ledger's Daughter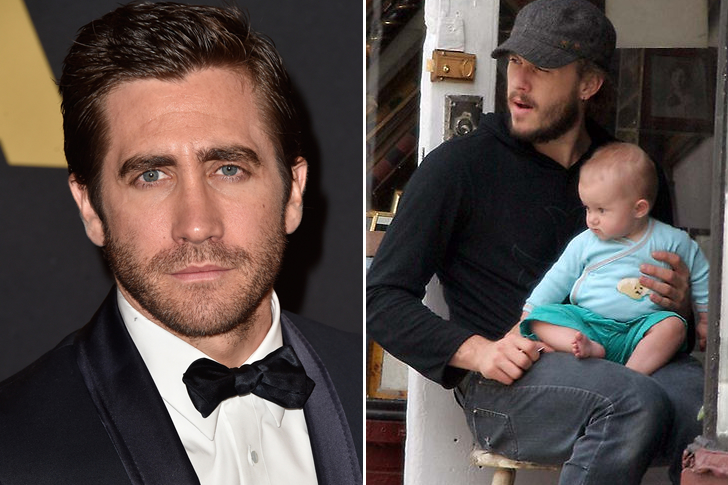 Heath Ledger and Jake Gyllenhaal co-starred in the Oscar-nominated film credit Brokeback Mountain in 2005, alongside Heath's then-girlfriend Michelle Williams. During the film's promotion, the actress was pregnant with the couple's only child, and when their daughter Matilda was born in October of that year, the couple chose Gyllenhaal as her godfather.
When Ledger died in 2008, Gyllenhaal moved in to assist Williams in caring for Matilda, who was just three years old at the time. Matilda does not have any memories of her late father, but with each passing year, she shows a stronger resemblance to him. Although Ledger's films gave him cinematic immortality, Matilda remains the human manifestation of Ledger's legacy to an incredible degree. As a result, Williams had to rapidly adjust to the fact that public interest in her and her daughter grew exponentially until they were on their own. The actress has accomplished the unthinkable by raising her now 15-year-old daughter with the late Ledger completely out of the spotlight.
Busy Philipps | Matilda Ledger – Michelle Williams and Heath Ledger's Daughter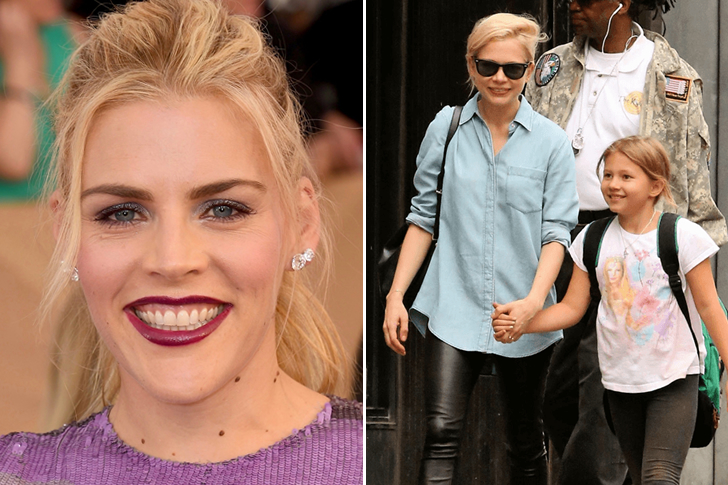 Heath Ledger was not only an Oscar winner but also the father of Matilda Rose Ledger, whom he had with his ex-girlfriend Michelle Williams. After being notoriously private about her personal life after Ledger's death, preferring to get home security for her daughter, Williams has gradually opened up and shared more of her and her daughter's story, as well as what it was like to raise Matilda alone after Ledger's untimely death in 2008.
Busy Philipps, Williams' best friend, is Matilda's godmother. Philipps met Williams on the set of Dawson's Creek in 2001, and she is Matilda's godmother. Since then, the actresses have maintained a close bond and often pose together on red carpets and social media. On the first anniversary of Heath Ledger's death, Busy Philipps knew just what Williams needed: a shoulder to cry on. Philipps captioned a photo of Williams leaning into her with her eyes closed on Instagram with the caption, "It's ok."
Michael Jackson | Nicole Richie – Lionel Richie's Daughter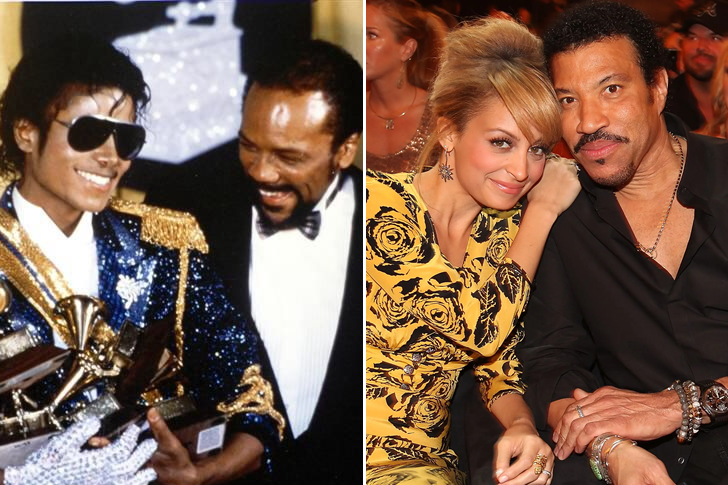 After Lionel Richie adopted Nicole Richie, he named Michael Jackson, a long-time friend, and collaborator, as her godfather. Who else would boast of having those bragging rights?! Nicole Richie's famous godfather isn't the only one she has. Nicole's godfather has also been named by Lionel Richie: legendary music producer Quincy Jones. Quincy's daughters, Rashida and Kidada Jones, have remained loyal to Nicole. She's one of those actors with well-known godparents.
Nicole has been steadily establishing and credits herself as a sitcom actress since 2017. After gaining fame for starring in the reality show The Simple Life in the early 2000s, she played Portia Scott-Griffith, a cable news show cohost, on the Tina Fey-produced NBC show Great News for two seasons. Last year, she appeared as a guest star on ABC's Bless This Mess, alongside Lake Bell and Dax Shepard. Her related work titles are "actor" and "designer," according to her.
Elton John | Romeo and Brooklyn Beckham – Victoria Beckham's Sons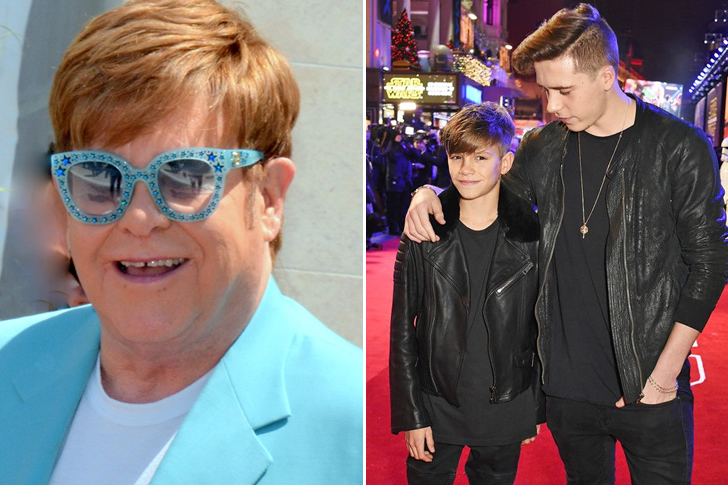 Before they were even born, Brooklyn and Romeo Beckham's names were already well-known. Their mother was a part of the biggest girl group of the century, and their father was a legendary soccer player. Throughout Brooklyn and Romeo's years on this planet, their degree of fame remained constant. In reality, they have several well-known names in their circle, and their godparents may be considered members of celebrity royalty.
Their godfather is one of the most well-known figures in the film industry, Sir Elton John. The singer started making music in the late 1960s, and a few years later, he would achieve significant commercial success. John and Victoria's relationship will turn out to be more than just a piece of movie magic. Their families are incredibly close, and John enjoys his position as the boys' godfather. He attends all of life's important events, including his godsons' birthday parties. John's creative talent indeed shines through in his friendship with the Beckham boys.
Kate Moss | Iris Law – Sadie Frost's Daughter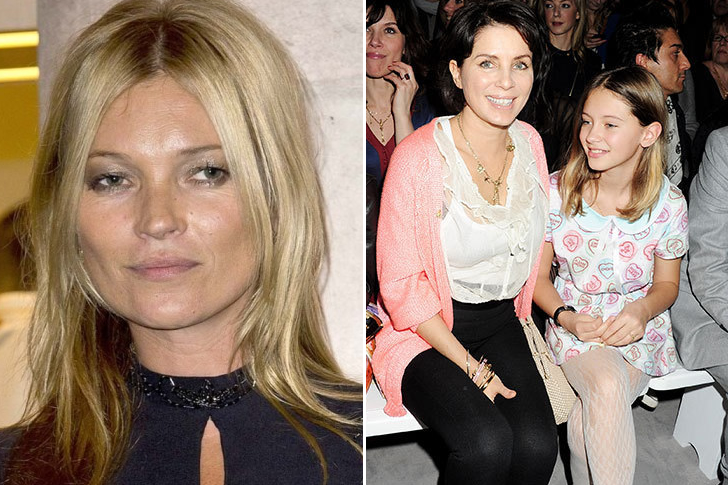 Sadie Frost's daughter, Iris Law, was born into the spotlight of famous parents, which must have been a challenging environment to grow up in. The world has been watching Iris since she was born, and even though she is still young, she has already made an impression on the planet. Iris has, to some degree, followed in her famous mother's footsteps. At the same time, she's built an extraordinary life for herself.
Sadie and Kate Moss have long been friends, and when Sadie and her former husband Jude Law baptized their daughter, Kate was there as the baby's godmother. A year later, Kate returned the favor by naming Jude and Sadie as godparents to her daughter Lila Grace. Having one of fashion's biggest names as godmothers can't hinder their modeling career aspirations. Think of all the tips Lila and Iris can receive!
Simon Pegg | Apple Martin – Chris Martin's Daughter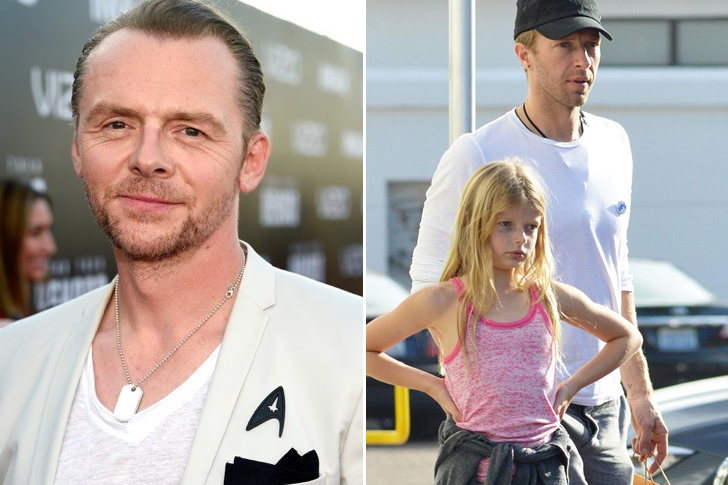 Apart from being British, what do the Coldplay singer and Shaun of the Dead co-writer have in common? If their relationship is any indication, they have a lot in common. Fans may not realize it, but Chris Martin and Simon Pegg have been close friends for years. When Chris and Gwyneth Paltrow's daughter Apple was born, they asked a close friend to be her godfather. However, not many children are fortunate enough to have a well-known actor such as Simon play their part.
When their daughter was born, Simon and his wife, Maureen McCann, returned the favor. Pegg's daughter, Matilda, has Chris as a godfather, and he even performed a song dedicated to her. Simon also claimed that taking pastries to Apple and Moses Martin was one of his favorite things to do, because what are godparents for if not to help kids sneak a little junk food? Martin and Pegg's degree of friendship is undeniable, and it appears that they will remain friends for the rest of their lives.
Steven Spielberg | Drew Barrymore – John Drew Barrymore's Daughter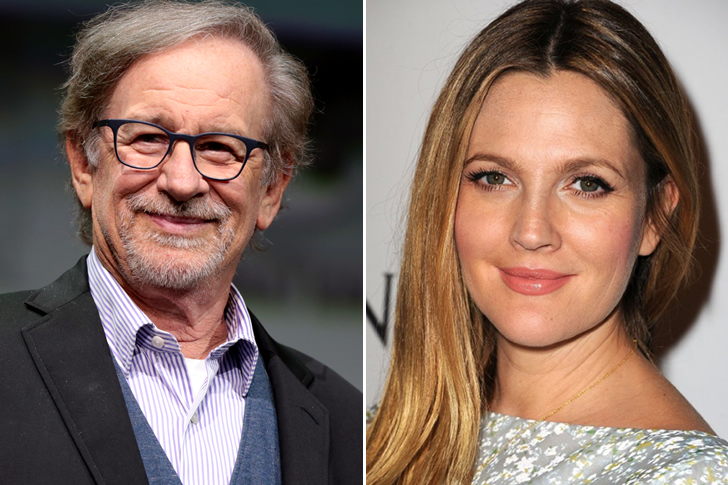 Steven Spielberg and Drew Barrymore have been friends since she was a child actress. Since her debut in Spielberg's blockbuster E.T. at the age of six, the two have had a father-daughter relationship. Their bond has ensured that he has continued to watch over her over the years.
Drew went from a lucrative child star to a bankable performer over the next few decades. Not only did Spielberg's advice help Drew as she grew up, but it also helped her with her parenting. Even though they have their own families and children, it seems that he and Drew will still be in each other's lives. That degree of friendship is admirable, but seeing how vital Spielberg is to Drew and vice versa is even more. Not only was she able to manage an upbringing that was far from ordinary, but she did so with the assistance of someone responsible for more than just some of the greatest films of all time.
Steven Spielberg | Gwyneth Paltrow – Blythe Danner's Daughter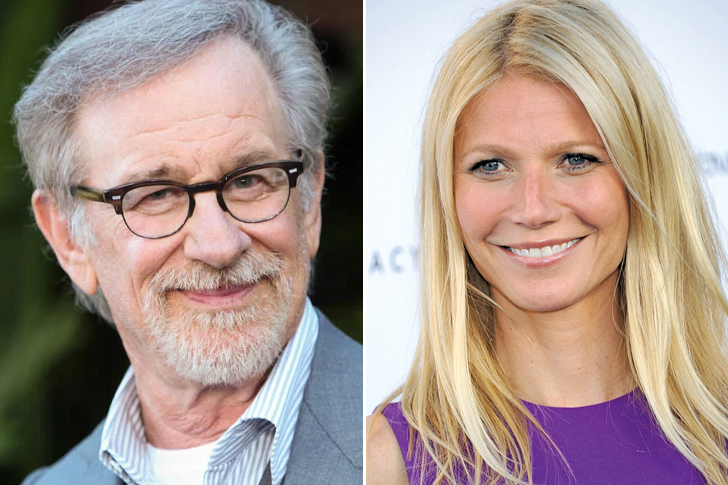 Gwyneth Paltrow grew up in a Hollywood power family, thanks to her parents, the actress Blythe Danner and the producer Bruce Paltrow, but you may be shocked to hear about one of its most influential members. Steven Spielberg is Gwyneth's godfather, and he was the one who gave Gwyneth's one of her first major acting roles.
Spielberg, his partner, Kate Capshaw, and Gwyneth's late father took a young Gwyneth to see The Silence of the Lambs one night in 1991. As Spielberg drove back, he saw something in his rearview mirror that piqued his interest: the actress' horrified face as she questioned Spielberg about the film. And that's how 18-year-old Gwyneth starred in Spielberg's star-studded 1991 adventure film Hook. Gwyneth had smaller parts in a series of films like Shakespeare in Love before making it big in Se7en. It was because of that part, as well as her high-profile career investments, that she became a '90s movie star.
Trudie Styler | Rocco Ritchie – Madonna's Son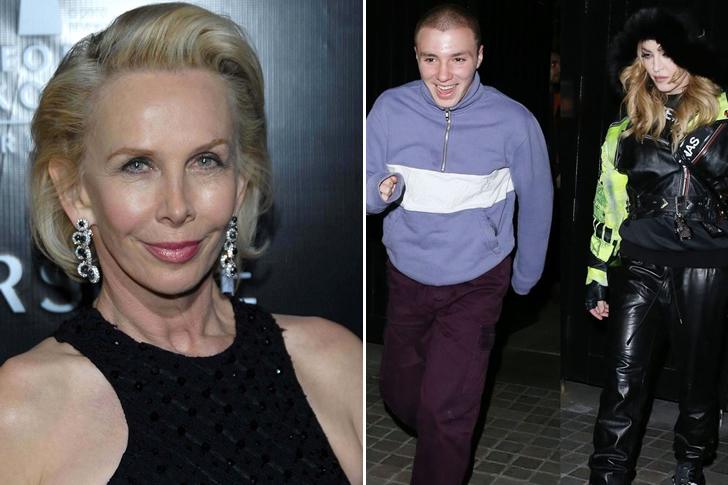 If you are born to famous parents and godparents, is there anything more you could ask for? Rocco Ritchie is the son of Madonna with English film director Guy Ritchie. Despite being born to famous parents, Rocco dislikes being in the spotlight. He only did one interview when he appeared on The Ellen DeGeneres Show with his mother. Except for a few paparazzi pictures of him on a skateboard or hanging out with his friends, Madonna's eldest son has remained largely unnoticed.
Trudie Styler, Sting's wife, became Rocco's godmother. Her most well-known roles include The Scold's Bridle, Me Without You, and Alpha Male. Her most recent directorial effort Freak Show was also a box office success. We most recently saw her in the TV shows Maniac and Falling Water. Styler also co-founded her production company and continues to make film investments since establishing herself as an actress.
Sting | Rocco Ritchie – Madonna's Son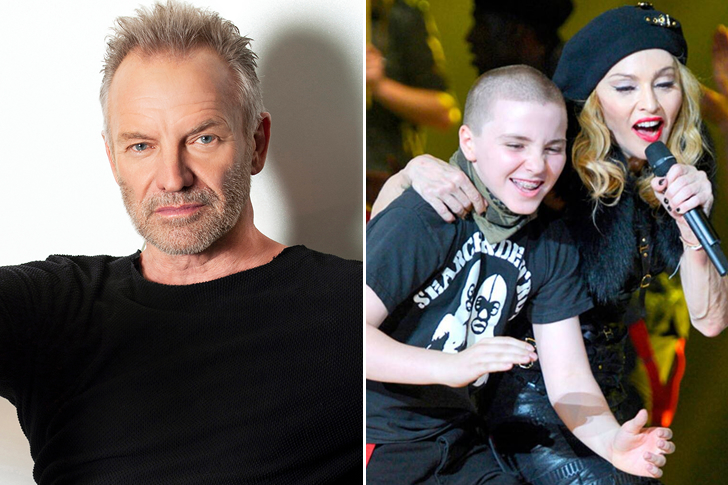 Madonna and Sting possessed an enormous degree of popularity in the 1980s and 1990s, but musically speaking, they were worlds apart — or were they? A live performance by Sting impressed one of Madonna's many hits. Surprisingly, music isn't the only thing that binds Madonna and Sting together. During a party at Sting's house, Madonna met film director Guy Ritchie. Not only did Sting play a cupid to the couple, but he also became a godfather to their son, Rocco.
Sting got his unique nickname from a striped sweater he wore in his early days, making him look like a bee. He is best recognized for his singing and songwriting career with the popular new rock wave band The Police. After nearly a decade of hit singles, the band disbanded in 1983, and Sting embarked on his own. Sting's solo career was a success after delivering a wide range of music with songs like Englishman in New York and Fields of Gold.
Aretha Franklin | Whitney Houston – Cissy Houston's Daughter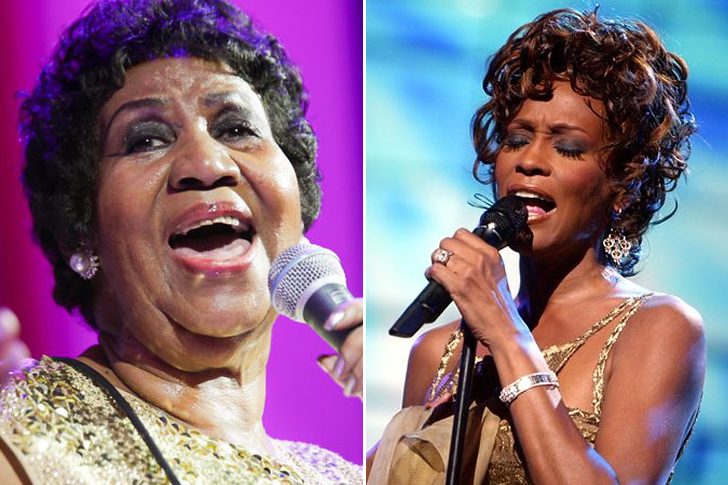 Aretha Franklin was a legend in the world of soul music. She embodied her songs more than any other artist and won the title Queen of Soul with hits like Respect, and I Say a Little Prayer. While we remember the highly talented artist, many people forget she was also Whitney Houston's godmother.
Whitney is undoubtedly one of the most popular female pop singers of all time. Born to Cissy Houstin, a famous gospel singer, her success as a hitmaker was extraordinary in its own right. To name a few career investments, she was the first artist to have seven consecutive number one hits, and her I Will Always Love You became the biggest hit single in rock history. Franklin and Whitney were the voice of a century, a true talent and celebrity far surpassing those around them. Their voice and music are practically indistinguishable to this day, a testimony to the importance of their artistic body of work, which spans decades.
Taylor Swift | Leo Thames Newman- Jaime King's Son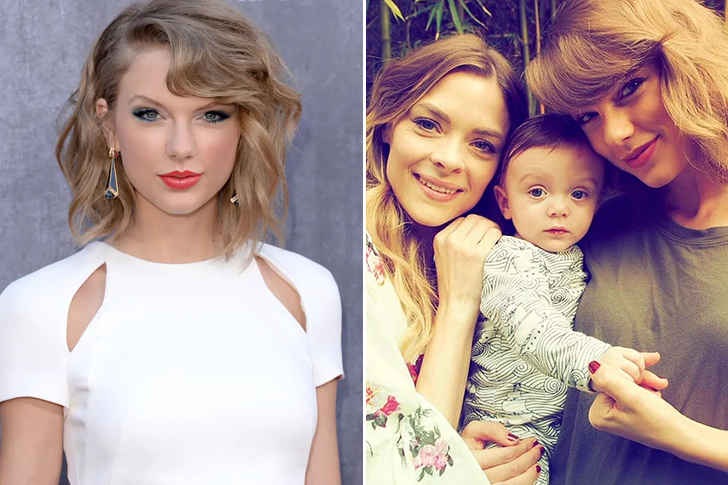 Taylor Swift is a social butterfly with a sizable group of BFFs. Her best friend, Jaime King, made a name for herself with acting credits in films such as White Chicks, Hart of Dixie, Sin City, and others. Swift and King have been friends since 2014. They met at a Golden Globes party and clicked right away. They have had a long and fruitful relationship, which paved the way for the singer to become a godmother to King's son, Leo.
Swift takes her responsibilities as a best friend very seriously when she paid a massive tribute to Leo's hospitalization. She donated because Leo was diagnosed with transportation of the great arteries (TGA) at 20 weeks. Swift certainly had no idea how much a gift like this would mean to King. It's not only the monetary value that's touching; it's also the fact that she's showing concern and even helping to start a conversation about TGA. Swift is, without a doubt, one of the greatest godmothers and BFFs in the world.
Jessica Alba | James Knight Newman – Jaime King's Son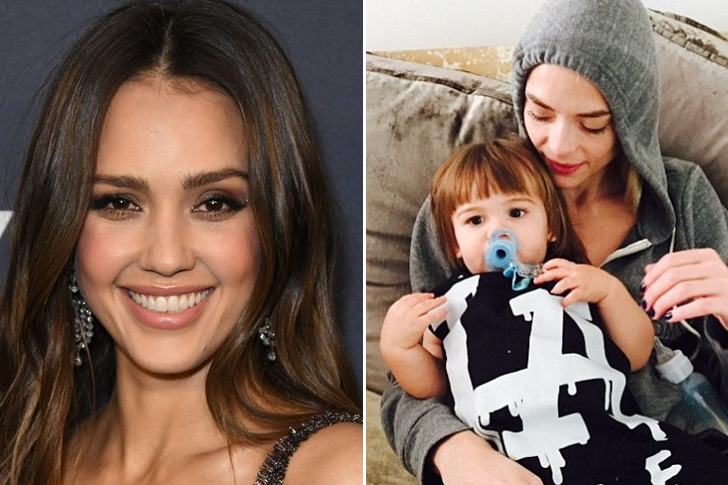 Jaime King has many famous friends, but she's entrusted her son James Knight to Jessica Alba. Alba is someone the actress looks up to, even though her friends Jenna Dewan-Tatum and Malin Akerman are now moms as well.
Alba and King have been friends for a long time, so it's no surprise that she chose her to be her son's godmother. For King, having a trusted mom friend is essential. As a first-time mom, she had a hard time juggling between parenting and career, but she managed it all with the help of Alba. She gushed about the actress' parenting skills. "She is an amazing parent, and I chose her because she has shown what it means to be a wonderful mother and a great working mother." Seeing Alba come into her own and start her investment company is indeed an inspiration, not just to her fellow celebrities but to women in general.
Nicole Kidman | Stella Baker – Simon Baker's Daughter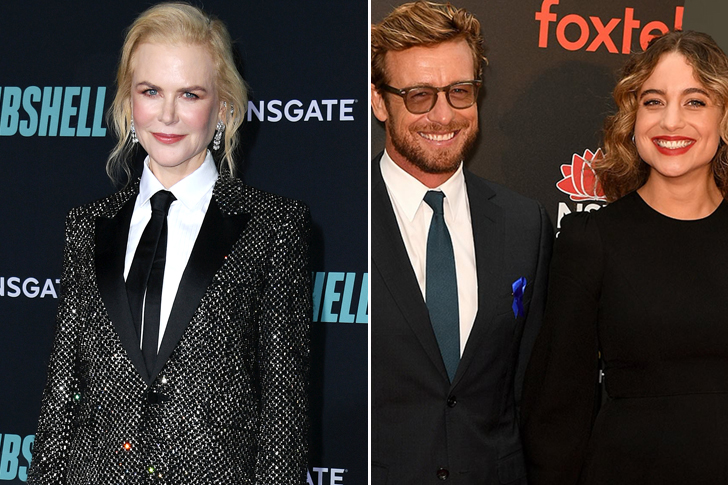 Nicole Kidman is undeniably one of Hollywood's reigning actresses, with a long list of nominations, distinctions, and investments to her name. Kidman had shown signs of making it big since her debut in the Australian film industry, and when she went to Hollywood, it seemed like a far more plausible dream. She is indeed an influential figure that the world looks up to.
Simon Baker is best known for portraying Patrick Jane in the CBS sitcom The Mentalist and Nicholas Fallin in The Guardian. He also played Riley Denbo in Land of the Dead, and Christian Thompson in the film adaptation of The Devil Wears Prada. Hollywood paved the way for Kidman and Baker's friendship, and not only that, but she also plays the role of a godmother to his daughter, Stella. Over the years, they often communicate and spend quality time together.
Naomi Watts | Claude Baker – Simon Baker's Son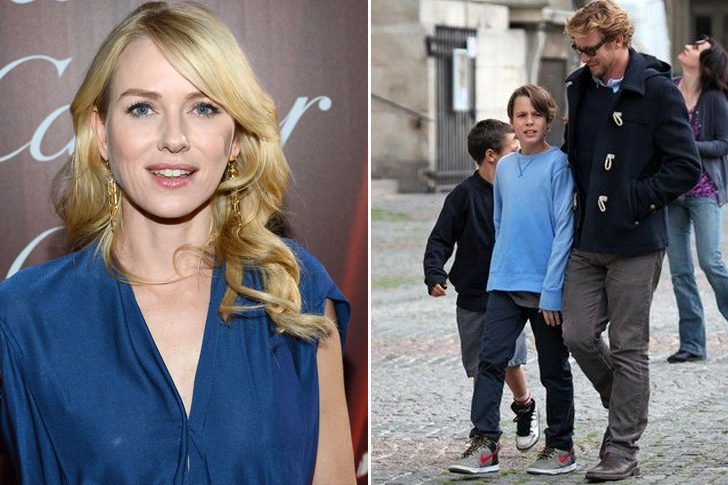 Naomi Watts became one of Hollywood's biggest stars thanks to her excellent performances in various films. Her willingness to impose herself on roles and circumstances over her career is one reason she is known as one of Hollywood's most versatile actors. Watts has had a long and illustrious career investment, but it's difficult to ignore her part in The Impossible when it comes to her most critical work.
When her best friend, Rebecca Riggs, started dating Simon Baker, she revealed she was not a fan because The Mentalist star declined to leave the ladies alone. Watts admits that he was so smitten with his then-girlfriend Rebecca that he didn't want to leave her side. Baker quickly won Watts over, and the couple's second son, Claude, now has Watts as his godmother. Of all her roles, it seems like being a godmother is her favorite.
Mariska Hargitay | Sophia Meloni – Christopher Meloni's Daughter
Mariska Hargitay and Christopher Meloni have both had " each other's back" for more than 21 years since the first launching of Law & Order: Special Victims Unit. The actors co-starred on the show for 12 years as detectives Olivia Benson and Elliot Stabler before Meloni quit in 2011 due to contract problems. Despite leaving SVU after 12 seasons, he has always found himself in the enviable role of working equally well in drama and comedy with performances in films such as Sin City: A Dame to Kill For.
On the other hand, Hargitay went from detective to captain on the show, and in 2019, SVU became the longest-running drama series in television history. Despite his abrupt exit, the two remained in contact. Hargitay serves as the godmother to Meloni's daughter, Sophia. The degree of their friendship is uncommon in the industry, and the stars are well aware of its rarity.
Norman Lear | Katey Sagal – Boris Sagal's Daughter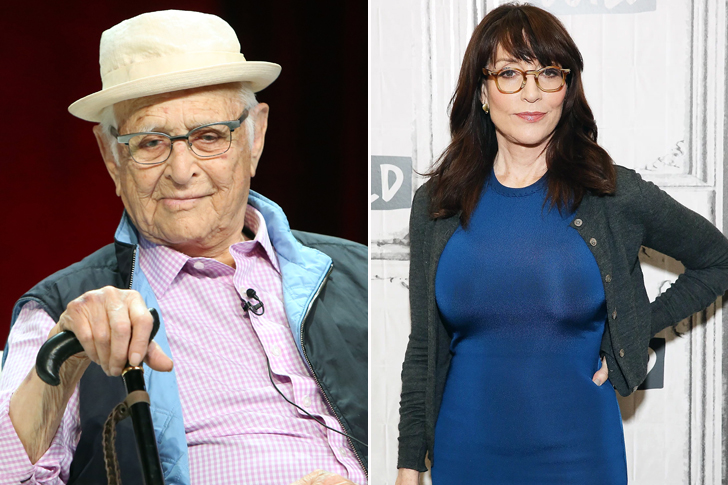 If you didn't recognize Katey Sagal from her long-running Fox sitcom Married… With Children, you might have seen her later in the FX drama Sons of Anarchy as Gemma Teller Morrow. Her diverse performances demonstrate that she is a talented and versatile actress for both comedy and drama roles. Everyone in her family has been interested in Hollywood and shows business somehow, even her godfather, Norman Lear. Katey and Norman both admitted in 2016 that she was not only his goddaughter but that he had even introduced her parents to each other.
Lear has a long history of television and film. He is also involved in activism and philanthropy in politics and social issues. His works like Sanford and Son, One Day at a Time, Maude, and his most well-known and acclaimed film, All in the Family, made him the most successful television producer of the 1970s. Given his career investments, Katey is indeed one proud goddaughter.
Ted Danson | Ellery Harper – Laura Dern's Son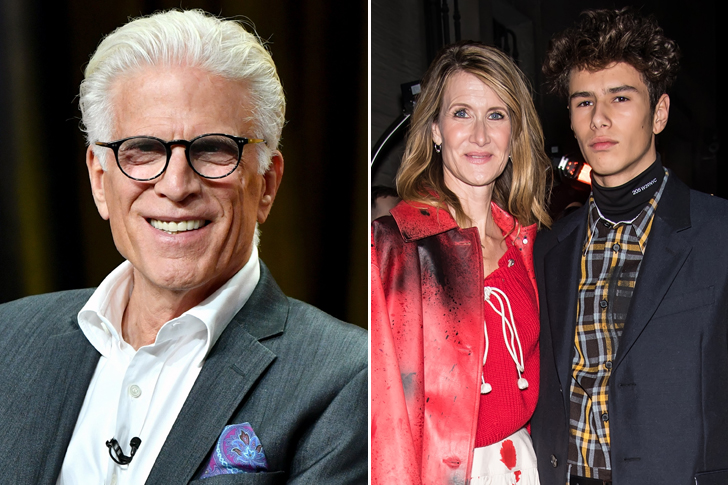 Making a degree of his own in show business, Ellery Harper made his debut on the cover of a magazine recently. On March 1, ODDA, a New York City-based arts and culture publication, debuted the cover on Instagram. Ellery is one of eight artists featured on the magazine's Spring/Summer 2021 issue's eight separate covers.
Why are we not surprised? His mother is an Oscar and Emmy nominee, his father is an artist, and his godfather, Ted Danson, is also an actor. Speaking of the latter, Danson is an award-winning American actor who has won Primetime Emmys and Golden Globes. The artist became well-known thanks to his portrayal of the hero of the sitcom Cheers. He rose to prominence as a dramatic actor after beginning his career as the embodiment of comedic characters. He is best known to the modern generation for his roles in the television shows Curb Your Enthusiasm and The Good Place.
Cicely Tyson | Lenny Kravitz – Roxie Roker's Son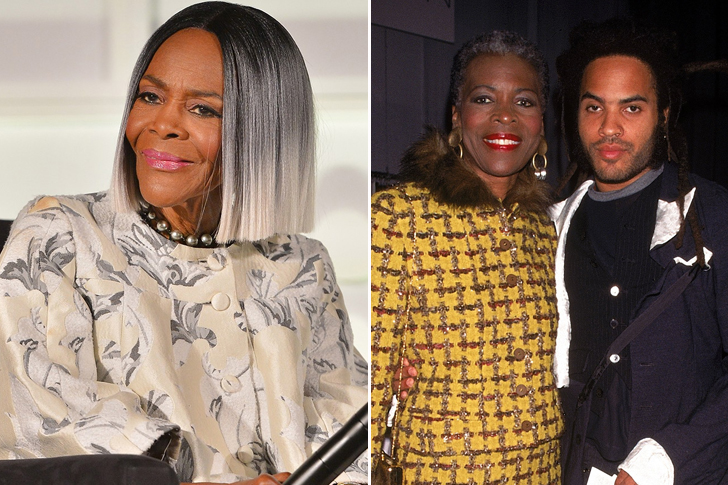 Not many may know that Lenny Kravitz's mom, Roxie Roker, is the late Cicely Tyson's best friend, so it's no surprise that the latter has become the singer-songwriter's godmother. The two shared an extraordinary bond, as the actress did everything to protect and support him whenever needed.
Lenny credits both his mom and godmother for being "kindred spirits," calling them sisters. Tyson had been a massive part of his life, and the 56-year-old performer had nothing but love for the former model. In his special tribute for her, he called his late godmother the "Black queen," who showed everyone how beautiful Black is. The love they had would always be tremendous. Lenny was also thankful that they had been on earth at the same time, calling himself blessed for receiving the love that only Tyson could give. Though she's now gone, Lenny swore he would always love her.
Kim Kardashian West | True Thompson – Khloé Kardashian's Daughter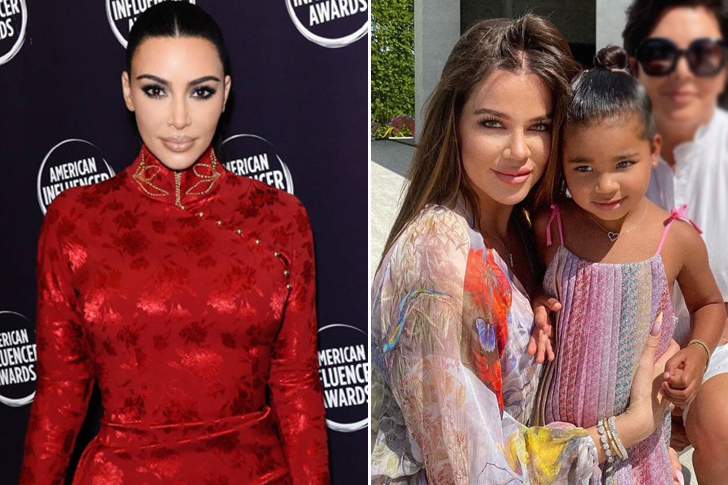 The Kardashian-Jenner family has been known for their tight-knit bond, so no wonder Khloé Kardashian has made her sister, Kim Kardashian godmother of her daughter, True Thompson. Though it caused a slight degree of a rift with her other sister, Kourtney Kardashian, Khloé explained she saw how Kim was as a mom.
She has enormous respect for her parenting skills, but it doesn't mean she doesn't feel the same way toward Kourtney. It's just that Tristan Thompson's partner can more relate to Kim than Kourtney. Kim was also there for her when she was pregnant, making sure that she felt and looked at her best. No matter what their issues are, however, Khloé says they will always remain as a family with a close bond, loving each other so much. The reality star also knows that whatever happens, True is safe and in the best hands with them no matter who her legal guardian is.
Jessica Simpson | Wilder Frances Faison – Donald Faison's Daughter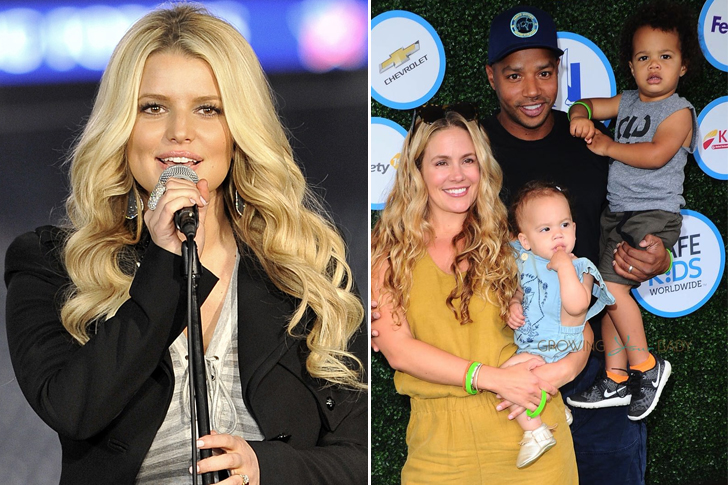 CaCee Cobb and Donald Faison chose Jessica Simpson to be the godmother of their beautiful daughter, Wilder Frances Faison. The singer gladly accepted the offer and was even proud to have the kid as her godchild. In a post on Instagram, the 40-year-old fashion designer shared a photo of them together, confessing she's madly in love with the child.
Cobb and Simpson have been friends since time immemorial, but initially Mrs. Faison was just her personal assistant. She even probably hired a moving company to help Simpson and her then-husband, Nick Lachey, in 2004 while they were filming her former reality series Newlyweds. Though fans saw how incredibly close they were, Simpson revealed they once fell apart. At the time, Cobb opposed her decision to leave Lachey, but look where are they now? Cobb and Simpson turned out to be best friends forever.
CaCee Cobb | Maxwell Drew Johnson – Jessica Simpson's Daughter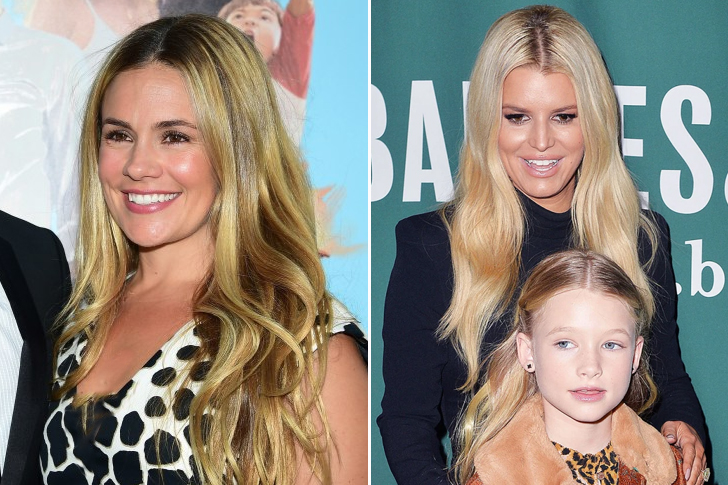 CaCee Cobb and Jessica Simpson's closeness continues as the latter picked her BFF to be her daughter, Maxwell Drew Johnson, godmother. Though the entrepreneur's personal assistant didn't like that she had quickly moved on from Nick Lachey to her now-husband, Eric Johnson, it couldn't be denied that Jessica made a good decision. She's much happier today with him and their three kids: Birdie Mae, Ace Knute Johnson, and Maxwell.
All's well that ends well for the BFFs, as they mended their friendship in 2008. At the time, Simpson made a major investment by creating a new country album and asked for Cobb's help. Now, they are both coming in and out of each other's lives. It looks like Simpson's and Cobb's kids will turn out to be the next generation of besties with the strong friendship that they have built.
Cameron Diaz | Frankie Barrymore Kopelman – Drew Barrymore's Daughter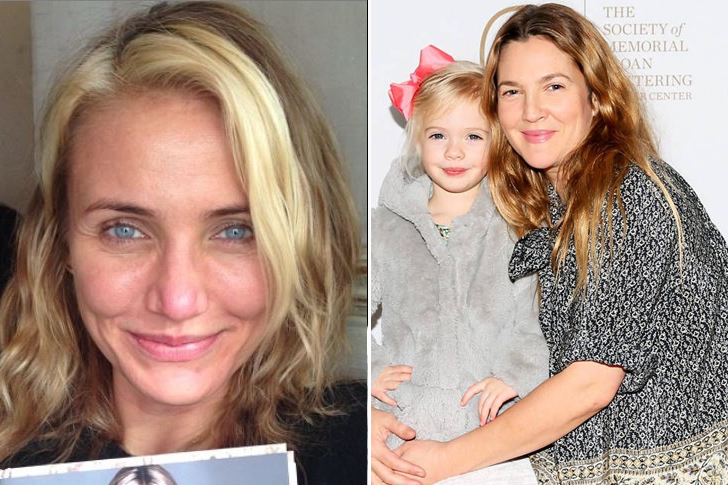 It has been more than two decades since Cameron Diaz, Drew Barrymore, and Lucy Liu did the hit 2000 movie Charlie's Angels, but these three remain to be the best of friends until today. Barrymore, in fact, chose Diaz to be the godmother of her daughter, Frankie Barrymore Kopelman, proving they're indeed the friendship goals.
You can even give them credits for being sisters with their tight-knit bond. Barrymore says if there's someone she has to add to her speed dial to look after her kids, it will definitely be Diaz—aside from Adam Sandler. The former child star praises the child actress for being "so precise about everything," revealing she's the kind of woman who anyone will want in their life on a daily basis if there's any crisis or situation. By the looks of it, Frankie is in safe hands with her godmother.
Nick Jonas | Valentina Angelina Jonas – Kevin Jonas' Daughter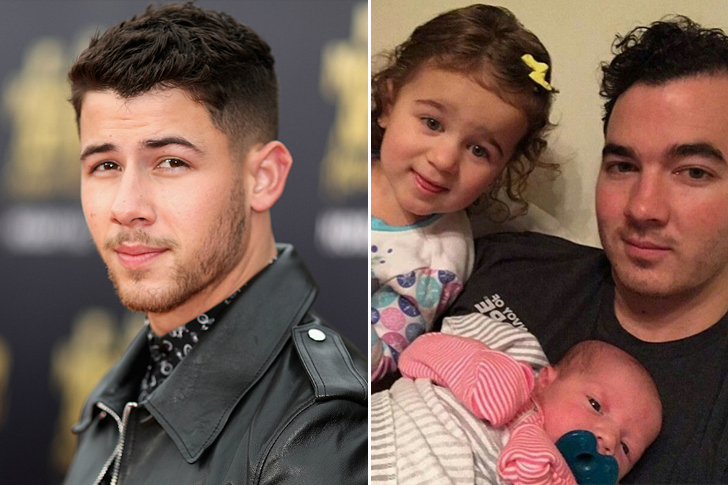 Kevin Jonas didn't go further and look for other guys to be his daughter's, Valentina Angelina Jonas, godfather. He chose his brother, Nick Jonas, to play that role, and he just made the right choice. Priyanka Chopra's husband felt so proud to be his niece's godfather and even shared the news on Snapchat. He posted a photo of the kid's dedication day, giving Valentina credits for being his "beautiful niece." The snap also featured Kevin and his sister-in-law Danielle Jonas. Nick said he's honored to be her godparent.
Kevin and Danielle welcomed their second child in October 2016. They shared the news on Twitter, posting a snap of their newborn child and proudly introducing her to the world. Nick couldn't hide her excitement with the birth of his new niece, congratulating Kevin and Danielle for having another Jonas in the family.
You've Reached The End