Your Favorite Hollywood Stars and Their Celebrity Crushes
Hollywood's finest heartthrobs get plenty of love across the globe, but even they aren't immune to developing crushes! After all, if you're regularly surrounded by some of the world's most beautiful people while also getting to know them as a person, it's easy to see why it happens. Learning about co-stars developing feelings for each other or even ending up in a relationship isn't new at all. We've all seen many examples of such over the years, and we have to admit, it is always quite endearing.
Let's not forget that Hollywood has had a number of "odd pairings" over the years. These are the celebs you wouldn't have expected to be crushing on one another simply because of their age gap or the fact that they have never even met in person! There are plenty in the industry, and we have to give these celebs a bit of credit for not being shy about expressing their admiration toward one another. With that in mind, here are your favorite stars and their crushes!
Nicole Kidman on Jimmy Fallon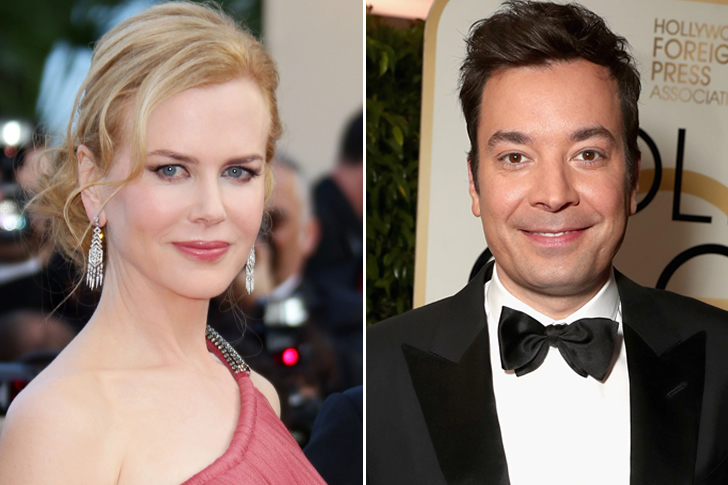 How would you feel if years from now, you learn that one of the world's most famous actresses used to have a crush on you? Sounds devastating, right? Well, this was precisely the case for Jimmy Fallon. In 2015, Kidman appeared on The Tonight Show as a guest and talked about their first meeting. While the host remembers what had happened well enough, he wasn't aware of the revelation the actress was about to drop.
According to Kidman, she had found him funny and interesting.  She liked him, but Fallon didn't talk at all for the whole hour and a half that they were hanging out together. Sadly, she took this as a sign of disinterest and even felt embarrassed for herself! We can imagine ourselves in her shoes and would've melted to the flooring had it been us. However, all's well that ends well. While Fallon did miss an opportunity, both did find their soulmates later on.