Your Favorite Hollywood Stars and Their Celebrity Crushes
Hollywood's finest heartthrobs get plenty of love across the globe, but even they aren't immune to developing crushes! After all, if you're regularly surrounded by some of the world's most beautiful people while also getting to know them as a person, it's easy to see why it happens. Learning about co-stars developing feelings for each other or even ending up in a relationship isn't new at all. We've all seen many examples of such over the years, and we have to admit, it is always quite endearing.
Let's not forget that Hollywood has had a number of "odd pairings" over the years. These are the celebs you wouldn't have expected to be crushing on one another simply because of their age gap or the fact that they have never even met in person! There are plenty in the industry, and we have to give these celebs a bit of credit for not being shy about expressing their admiration toward one another. With that in mind, here are your favorite stars and their crushes!
Jennifer Lawrence on Timothee Chalamet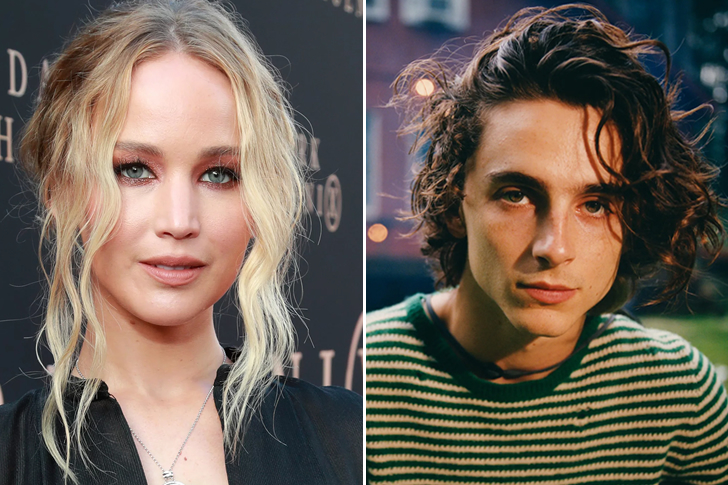 First up, we have actress Jennifer Lawrence who isn't shy when it comes to talking about harboring a crush on actor Timothee Chalamet. Before the two met in person and got to work together, Lawrence had spoken about Chalamet in interviews, jesting that she'll still "go for it" despite the fact that the actor is a few years her junior. According to the actress, she was simply waiting for him to get "a little bit older"! If there's one thing that we cannot fault Lawrence for, it's the degree of her candidness.
So, what does Chalamet think about all this attention? The Call Me By Your Name actor thinks of it as an honor. He calls Lawrence a "total legend" and an "icon" among younger people. While it isn't the most romantic of responses, we don't doubt that it'll put a smile on Lawrence's face!
Harry Styles on Lindsay Lohan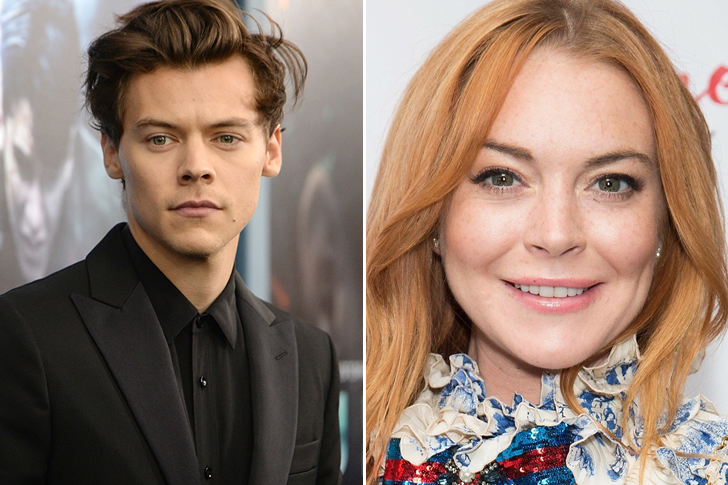 Harry Styles has fans from all over the globe and has gotten linked to a few other celebrities, including the likes of Taylor Swift! Back in 2016, however, UK tabloids reported on a bit of mischief that happened between him and his celebrity crush, Lindsay Lohan. At the time, the actress had been steering clear of any trouble and was leading a low profile life. So hearing her get involved with Mr. Hazza definitely sent the industry into a frenzy!
So, what had happened? According to Lohan, who was living in London at the time, the Watermelon Sugar singer randomly knocked on her hotel room at two in the morning. While she didn't recognize who Styles was, Lohan did admit to finding him attractive. The story pretty much ends there, though, as the actress had been in a relationship with someone. We guess Styles should have stepped on the gas sooner!
Nicole Kidman on Jimmy Fallon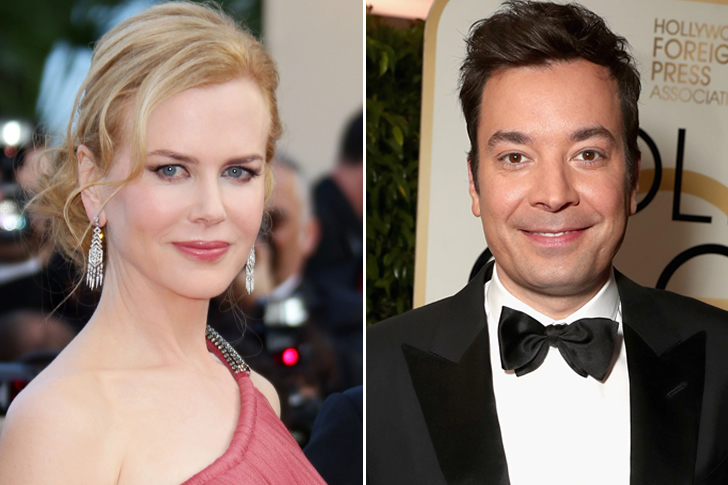 How would you feel if years from now, you learn that one of the world's most famous actresses used to have a crush on you? Sounds devastating, right? Well, this was precisely the case for Jimmy Fallon. In 2015, Kidman appeared on The Tonight Show as a guest and talked about their first meeting. While the host remembers what had happened well enough, he wasn't aware of the revelation the actress was about to drop.
According to Kidman, she had found him funny and interesting.  She liked him, but Fallon didn't talk at all for the whole hour and a half that they were hanging out together. Sadly, she took this as a sign of disinterest and even felt embarrassed for herself! We can imagine ourselves in her shoes and would've melted to the flooring had it been us. However, all's well that ends well. While Fallon did miss an opportunity, both did find their soulmates later on.
Ariana Grande on Jim Carrey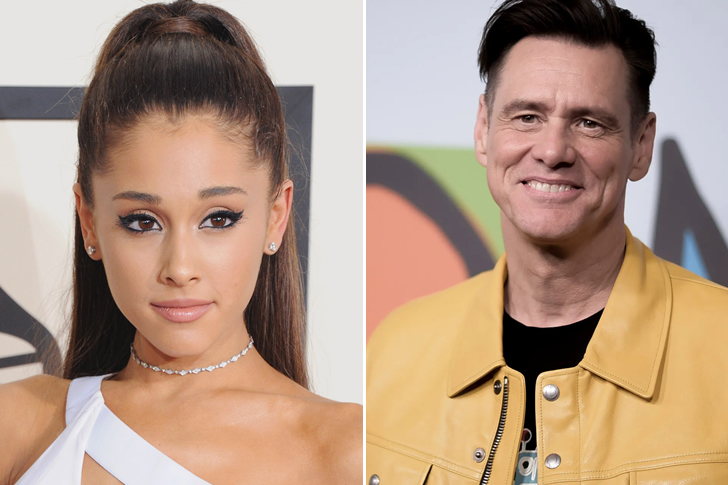 It is completely normal for people's first crushes to be celebrities. Many of us have spent investment money on purchasing posters and photos of them, but only a few get the opportunity to meet their celeb crush in real life. We can count Ariana Grande among the lucky ones because not only was she able to achieve stardom for herself, it also led her to finally meeting her childhood crush! During an interview on Live With Kelly and Michael, Grande admitted that she always had a crush on actor Jim Carrey. According to her, the love she has for Carrey is "lifelong"!
Perhaps this is also why the singer got quite emotional upon finally meeting him. They first got acquainted on Twitter, where Carrey acknowledged Grande's admiration of him. Eventually, they got to meet in person, and during which Grande confessed to even shedding a few tears.
Adele on Rihanna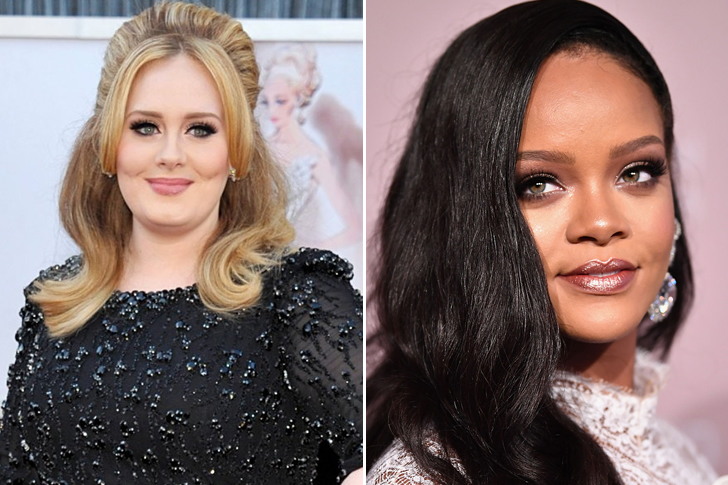 Now here's a collaboration we would love to see! It is no secret that singer Adele is very candid when it comes to expressing her opinions, even though some might seem controversial. That is why she wasn't too shy about admitting to being infatuated with Rihanna after seeing the singer perform live. We can understand her reaction, though. After all, Rihanna is one of the most beautiful and talented performers of this generation.
So, is she switching teams? You might be disappointed for those expecting quite a big change in the Rolling in the Deep singer's lifestyle. Adele did clarify later that she identifies as heterosexual, though she isn't afraid to express a degree of admiration toward other women. While the only relation these two will likely share is friendship, we do hope they consider making magic in the studio in the future too!
Anne Hathaway on Jon Stewart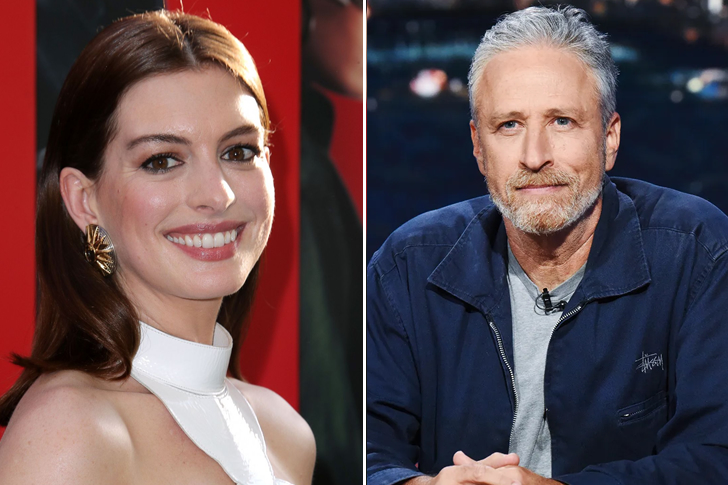 It seems that the quickest way to many of our female celebrities' hearts is through humor. The same can be said for actress Anne Hathaway who had also admitted to harboring a crush on The Daily Show host Jon Stewart. In 2008, she met Stewart for the first time and appeared on his show as a guest. Despite her best efforts to keep calm and not show too much emotion, it was clear that Hathaway was very distracted and had been blushing the entire time.
Aside from the fact that Stewart had her laughing at every turn, Hathaway also revealed that she simply couldn't concentrate because she had a crush on him. Following that, it was Stewart's turn to feel flustered! We're sure it felt like electricity for the host, especially when the actress revealed that her friends were also crushing on him!
Helen Mirren on Vin Diesel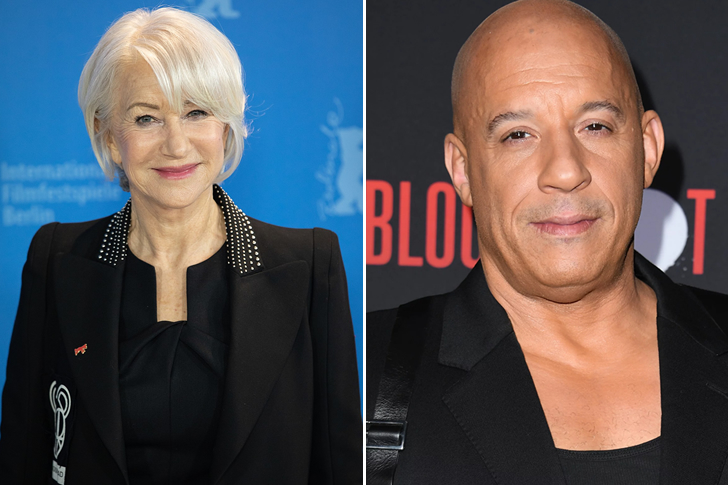 When it comes to celeb crushes, age doesn't seem to be a major hindrance. This is especially true when it comes to iconic actress Helen Mirren and her adorable infatuation with her The Fate of The Furious co-star, Vin Diesel. The pair first met in 2017 when they worked together in the movie, but Mirren had been very vocal about her admiration for the actor long before this meeting. In fact, during an appearance on Late Night With Seth Meyers back in 2015, she admitted to being a huge fan of Diesel.
The reason for her crush? It all started after she saw him make a speech during a ceremony they both attended. The actress gave him credit for being cool and funny, as well as smart. She fondly recalls falling "a little bit in love" with the actor at that moment.
Lauren Conrad on Justin Timberlake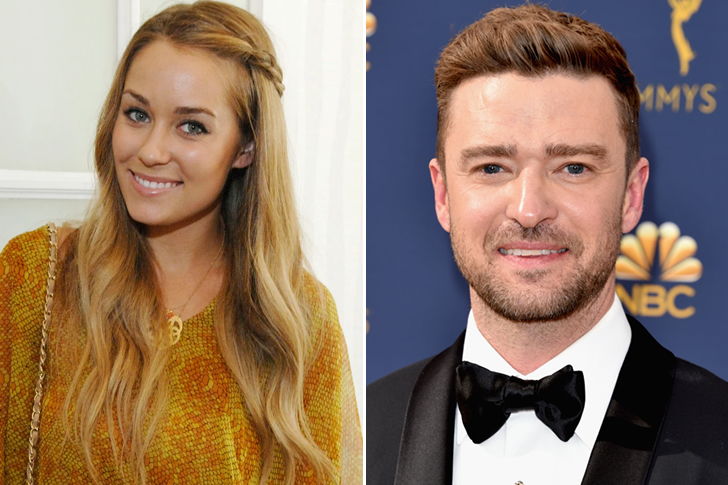 If you're old enough to remember the 2000s, then you're likely to be familiar with some of the biggest stars of that decade. From the likes of Britney Spears to groups like the Backstreet Boys, they were everyone's celebrity crushes. For former reality-TV star Lauren Conrad, however, it was one particular boyband member who became the apple of her eye: Justin Timberlake. During this time, he was still with the group N'SYNC and together, they topped charts worldwide. With his gorgeous voice and killer dance moves, we can totally see why Conrad was head over heels for the singer!
Their first meeting didn't carry the same electricity, however. The two encountered each other during the 2007 VMAs where she was set to give Timberlake an award. He refused to take it from her, though, and then proceeded to go on a rant about reality programs on the music channel! It left her so embarrassed and disappointed.
Jason Sudeikis on Ellen DeGeneres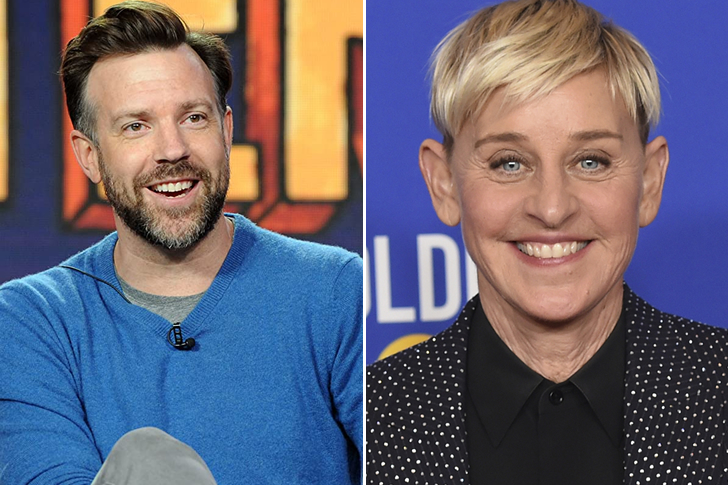 Admitting a crush isn't always the easiest thing to do. This is especially true if you have harbored feelings for the person for quite a while. However, for actor Jason Sudeikis, it seems as if he had simply been waiting for the right opportunity to do so. When he stepped in as a guest host for The Ellen DeGeneres Show, he brought something else aside from jokes with him. There certainly was no punchline when he admitted on TV and in front of the audience that he was a huge fan of DeGeneres during his college days.
In his own words, he described himself as having "a full-blown crush" on the comedienne, and even went on to compliment her humor, as well as her "beautiful blue eyes". We have to give Sudeikis credit for having the guts to do this and having the smoothness with which he did so!
Diane Keaton on Channing Tatum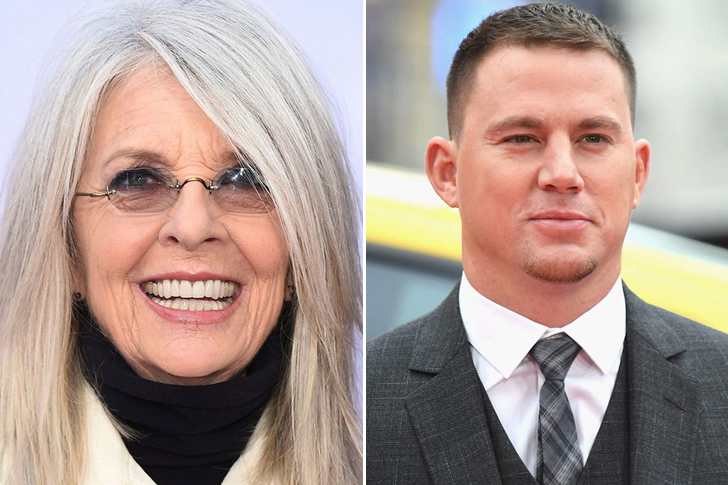 Is there anyone who can resist Channing Tatum's charm? Well, we know for certain that actress Diane Keaton is ready to put a ring on the actor's finger! During an interview on The Ellen DeGeneres Show, the iconic actress admitted to having more than a degree of infatuation towards the actor. When they got to the topic of marriage, DeGeneres jested that it wasn't too late for Keaton to make the commitment. Keaton humored the host right back and said that she would love to, but only with Channing Tatum!
At the time, the actor was actually married, which Keaton was not aware of. We wonder how the actress feels now that Tatum is single again. After all, the actress once admitted that she does regret not getting married. Who knows? It is never too late for her to find true love in this day and age!
Emma Roberts on Jonathan Taylor Thomas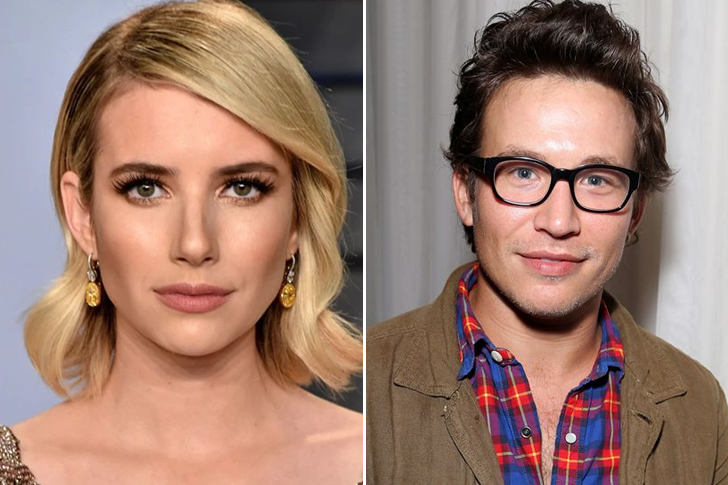 She might be this generation's favorite Scream Queen, but even actress Emma Roberts was not immune to having childhood crushes. In fact, the actress admitted that she used to look at her favorite celebrity's posters and just sob because of how intense her feelings were! Who was the star who managed to captivate the then-young actress's heart? It was none other than Jonathan Taylor Thomas, who was one of the biggest heartthrobs of his generation.
According to Roberts, she used to have a whole collage of his photos decorating the walls of her room. Even the American Horror Story star admits that her actions were a bit stalkerish, but we're certain that many others can relate to it. Such is the level of love many young girls have when it comes to crushes, right? Artists can easily make millions in investment money just by selling posters and other merchandise, after all!
Josh Hutcherson on Emma Watson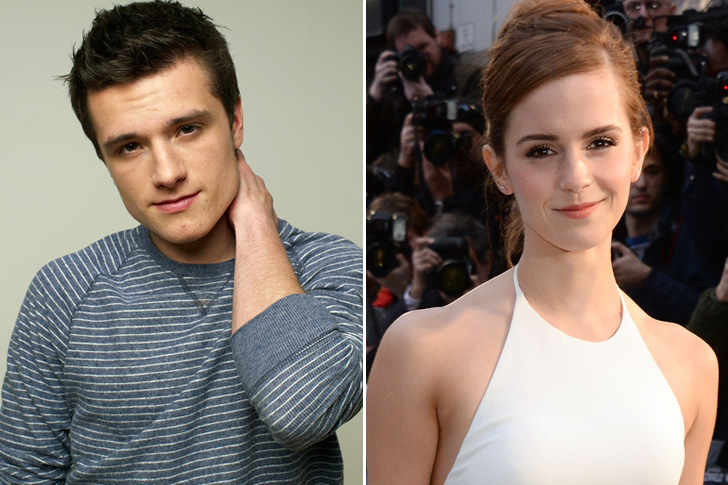 The star of the widely successful film The Hunger Games may have been paired with some of the most beautiful actresses in the world, but for a period of time, he only had eyes for one: Emma Watson. Back in 2013, when he was still on tour promoting his movie, he often told reporters how he was such a huge admirer of Watson and that he hoped to meet her in London. In fact, he went as far as asking his manager for an adorable favor and set up a meeting between the two of them!
While he may have never been able to "shoot his shot", Hutcherson knows well enough the kind of lifestyle Watson lives. The fact that their schedules never really aligned was almost inevitable. Nonetheless, we have to credit him for actually going the extra mile when it came to trying!
Terrell Owens on Jennifer Lopez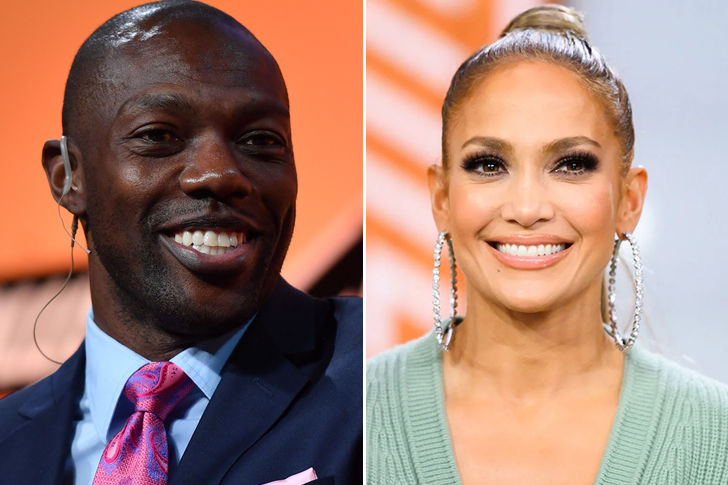 It's not too surprising that Jennifer Lopez has admirers even among other celebrities. After all, her beauty, talent, and wit contribute to her charm. Among those who have admitted their crush on the artist is NFL athlete Terrell Owens. In an interview with US Weekly, he confessed that J.Lo was his Hollywood crush. In fact, he even went on to say that he had been working on getting her number, but to no avail. In a humorous act, the athlete asked the magazine to set up a meeting between the two of them!
Did Lopez ever respond to Owens' advances? The answer remains unclear. While it is no secret that she's enjoying the single life, the mom of two might not be keen on getting back into a relationship too quickly. We're sure she'd rather make investments in her children instead.
Adam Rippon on Shawn Mendes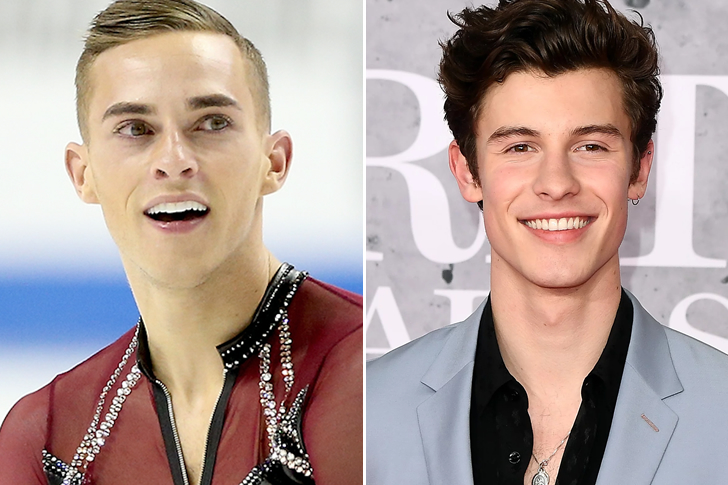 Adam Rippon has won over the hearts of many, but the current focus of his affection is none other than Shawn Mendes. The figure skater has always been quite open, not just about his sexuality, but also when it comes to his celeb crushes. He has spoken about the degree of his admiration for the likes of Harry Styles and Jake Gyllenhaal before, after all. During an appearance on the Ellen DeGeneres show, however, he spoke about finding Mendes quite cute and that he was looking forward to meeting him during the Academy Awards.
Well, the lucky athlete did eventually get that wish. In an Instagram story, he shared how he had met the singer during an Oscars afterparty. The only thing he can say about the encounter? A resounding "BRUH", which to us sounds like a successful cheer after finally meeting his celebrity crush.
Matthew McConaughey on Susan Sarandon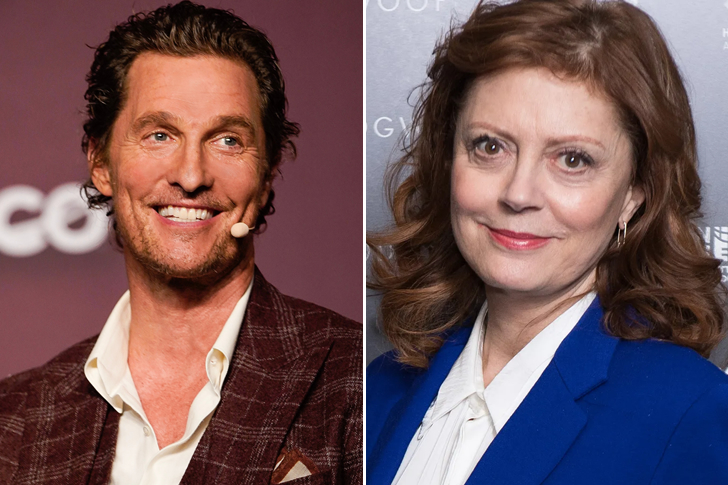 Few people would argue about the fact that Susan Sarandon remains one of the most beautiful actresses in Hollywood. She has certainly aged gracefully and actor Matthew McConaughey is one of the first people who would agree. In 2013, he admitted to having a crush on Sarandon. In an interview with W magazine, he spoke about how he finds her one of the most attractive actresses in the industry even to this day.
We can't help but agree! Sarandon is well-known for the elegance with which she carries herself. Of course, it also helps that she has such relatable humor while maintaining an impeccable degree of class. In the actor's own words, she describes the actress as being "all woman" and that "honesty comes out of her". Looks like someone's got a bit more than a crush, we think!
Emma Watson on Tom Felton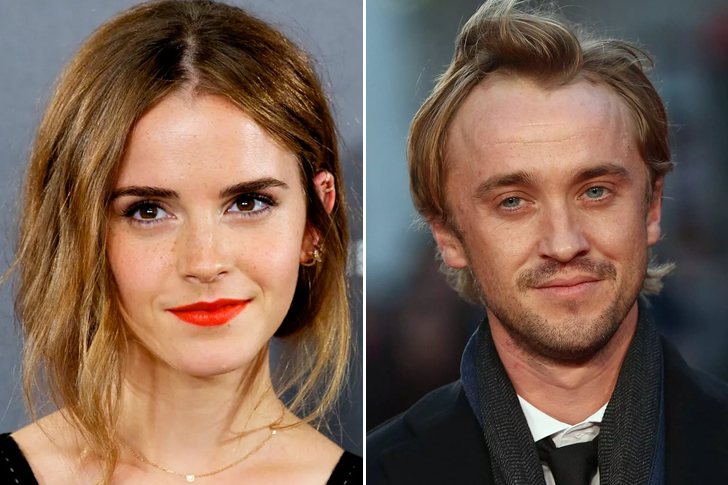 The Harry Potter film franchise introduced us to an entirely new generation of actors and actresses. Among them are Emma Watson and Tom Felton. While the two often argued onscreen, an entirely different story was playing out behind the scenes. In 2011, during an interview with Seventeen magazine, Watson bravely admitted that Felton was her very first crush. Funnily enough, now that they're all grown up, the two are able to talk and laugh about it casually.
We can imagine how distracting that must have been for the then-young actress, having to work with someone she was completely smitten with. While no romantic feelings ever bloomed between them, the two did find good friends and each other. If you ask us, that's the best kind of investment any two people can make. It's one that can last a lifetime, after all!
Reese Witherspoon on Johnny Depp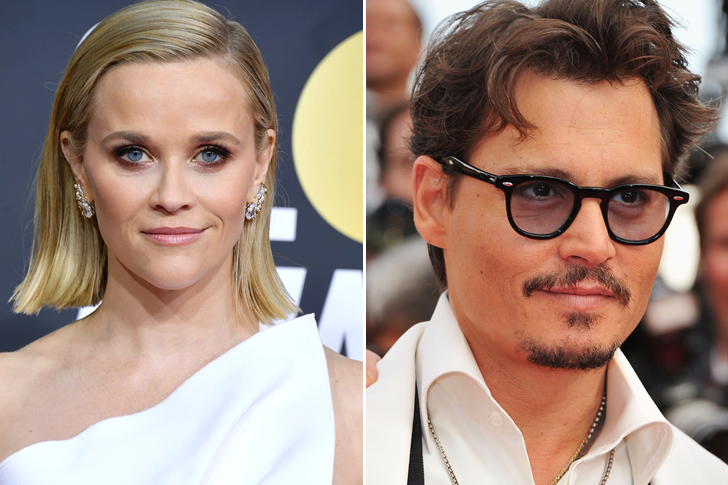 Johnny Depp has been making men and women everywhere swoon since he made his debut during the 90s. After all, he's got brooding good looks that feel like a throwback to other Hollywood "bad boys" such as James Dean and Marlon Brando. Of course, it helps that he is incredibly witty and charming on top of everything else. This is why we're not too surprised to learn that he has many admirers within the celebrity circle as well. One such star who was head over heels for the actor is Reese Witherspoon!
The Legally Blonde actress has confessed to having put up posters of Depp in her room too. In particular, she was particularly in love with him during his 21 Jump Street era. In an interview with MTV back in 2012, she unabashedly admitted to using some of her investment money to purchase magazines, just so she could put photos of him on her wall!
Dwayne Johnson on Rachel McAdams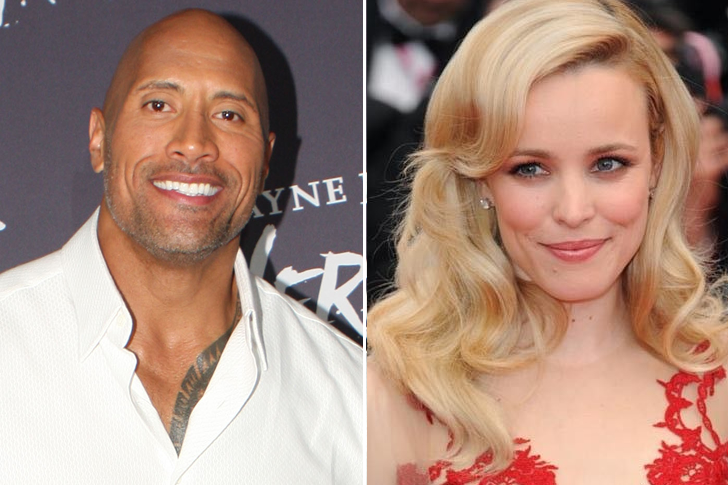 With his undeniable good looks, outstanding humor, and great physique, Dwayne Johnson is certainly used to having people swooning over him. However, even a guy like him develops celebrity crushes! Among the stars that have caught his eye is actress Rachel McAdams who starred in the films Mean Girls and The Notebook. When asked about his type, Johnson admits that he doesn't really have one. It isn't like he's looking for romance, after all. The actor has been in a longtime relationship with his partner, with whom he shares children.
Nonetheless, the actor doesn't shy away from expressing admiration towards actresses. Perhaps there lies the beauty of his relationship as well. Nothing is off-limits between the couple and they are very confident in each other. That's something no online classes would be able to teach anyone. In this case, it all comes with experience!
Meryl Streep on Will Ferrell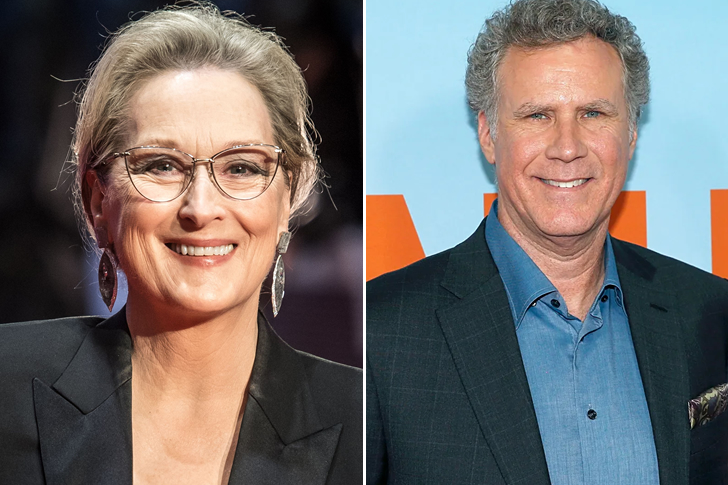 Meryl Streep has been in a very happy marriage for decades, but even the legendary actress isn't immune to developing crushes. It is only normal to admire someone, after all. Whether it be for their intelligence, humor, or looks, being around many creative talents can have this effect on anyone. So, who is this lucky man that has managed to capture Streep's affections? It's a comedy juggernaut, Will Ferrell!
In 2015, the actress first spoke about this particular crush. Speaking to W Magazine, she told them that one of the movies that never fails to make her cry is Anchorman, with credit to Ferrell's excellent performance. Streep goes on to admit her crush, saying that she loved every film he has ever been in. It's quite adorable how much she praises the actor, right? Ferrell certainly deserves the kind words, of course. We're sure there's no better compliment than one coming from someone equally as talented.
Martha Stewart on Ryan Gosling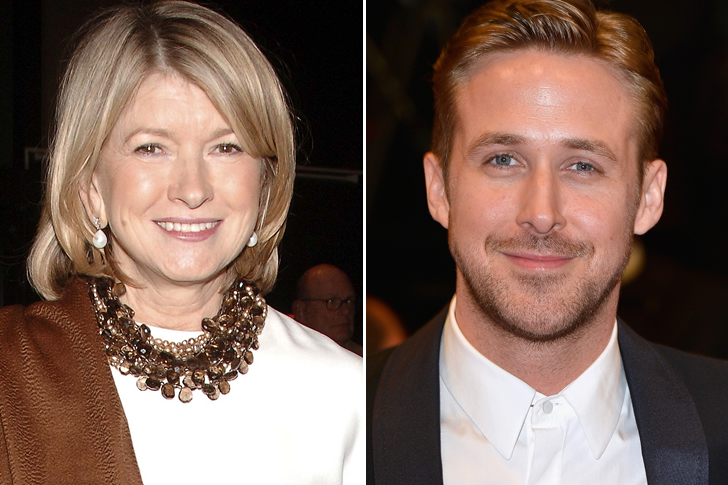 There might be quite an age gap between them, but Martha Stewart made a bold move when she admitted her admiration for actor Ryan Gosling. We're sure that many others would be able to relate to this since Gosling is one of this generation's most sought-after leading men. Stewart knows this very well. After all, she has confessed to having watched nearly all of his movies. Among her favorites are the films The Notebook and The Ides of March.
While there are no reports from Gosling's side, we're sure he wouldn't mind making an appearance on one of her shows. He does have a softer side to him that not many know of. In an interview with GQ Australia, he even spoke about his passion for knitting! Between these two, there's certainly a lot to talk about. Perhaps an online class for crafting in the future?
Ryan Gosling on Britney Spears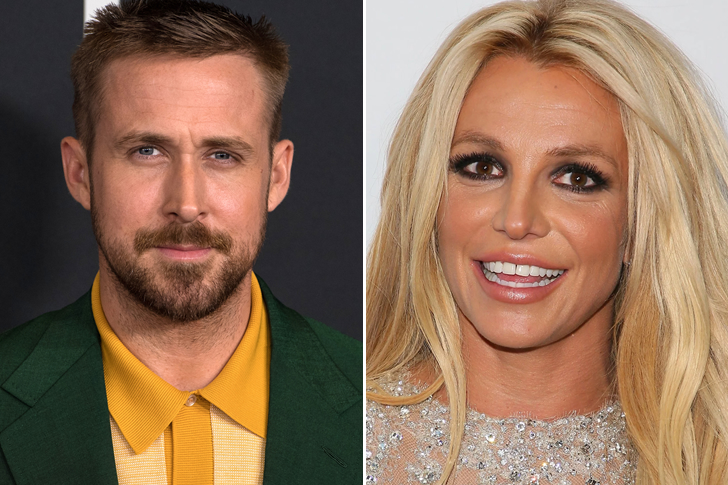 It's no secret that The Mickey Mouse Club made investments towards helping young talents with their careers. This includes stars such as Justin Timberlake, Britney Spears, Ryan Gosling, and Christina Aguilera. In fact, all four of these celebs first met on set and developed a lasting friendship through their shared experiences. However, in a revelation that Aguilera made during an appearance on The Late Late Show, there were also childhood crushes and the puppy loves happening behind the scenes of the popular teen program.
According to the singer, actor Ryan Gosling had a crush on Britney Spears during that time. As if to confirm this, Gosling had also admitted to playing spin the bottle with Spears and the rest of the cast. It certainly is a cute anecdote, which we're sure their fans appreciate. We wonder who else had secret flings and crushes during their time on the show!
Britney Spears on Brad Pitt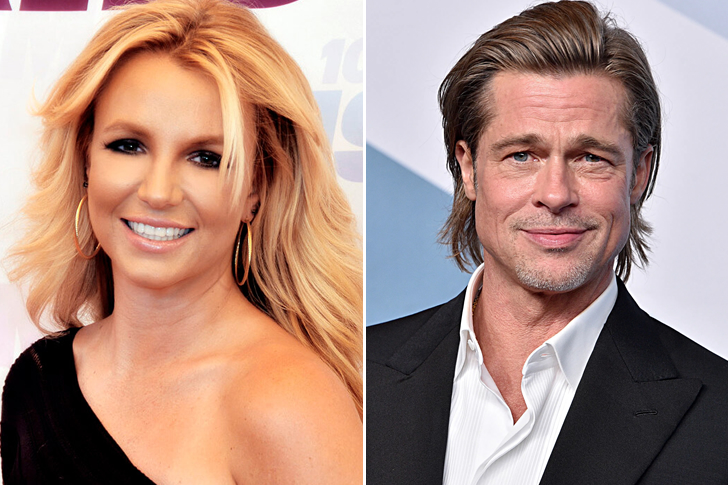 There's a very good reason why Brad Pitt remains one of Hollywood's most bankable male leads. He has good looks, is aging like fine wine, and has an easygoing attitude that makes him seem very approachable. Perhaps it's these things that appealed to Britney Spears. After all, the pop princess isn't shy about referring to the actor as her "dream man." That is something we're sure many others will relate to!
The singer has such a deep crush on Pitt that she couldn't help but gush when she learned that he was newly single. Whether it was just her brand of humor or an honest reaction, her comment did raise a few eyebrows. As for Pitt, now that he has settled everything with his lawyers, he could date anyone he wishes freely. There's probably a long queue of women just waiting to make their dreams happen, too!
Kristen Stewart on Amy Adams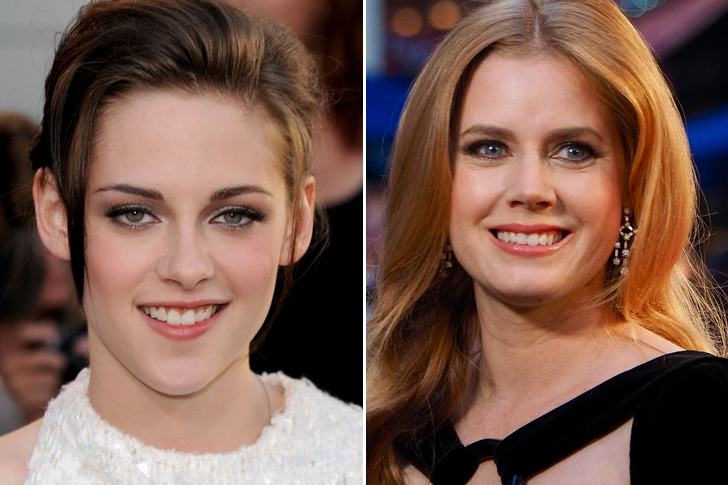 Actresses Kristen Stewart and Amy Adams first got to work together on the film On the Road. It might surprise some to know that Stewart has openly admitted to crushing on Adams, calling the actress "awesome" after they got to know each other better on the set of the film. On the other hand, Adams' initial impression of Stewart is that she was very intimidating! She confessed that knowing Stewart's teen-queen status at the time left her feeling very nervous. It's safe to say that they later lost the awkwardness and found their chemistry onscreen.
Adams, who is a fan of the Twilight series, also once confided in Stewart that she had read all of the books! Wouldn't it have been great if Adams landed a role in the franchise as well? With the degree of charm, these two have, we're sure they would have made quite the pair!
50 Cent on Helen Mirren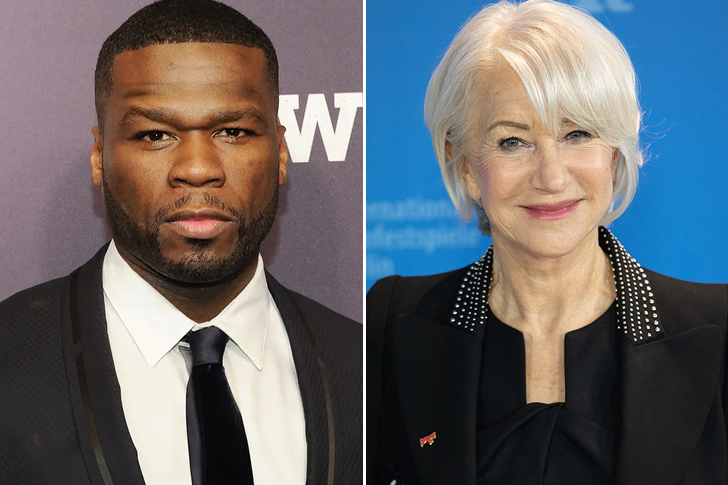 The thing with a person's attractiveness is that we can't determine it by age. Actress Helen Mirren is proof of this. She has managed to make men and women of varying ages swoon over her beauty and intelligence. One such celeb who has openly admitted to having a crush on her is rapper 50 Cent. The two first met during the 57th Annual Monte Carlo TV Festival, held in Monaco. We hope he had insurance because we're sure his heart was racing the entire time they were posing for photos!
She is thirty years his senior, but that did not hinder 50 Cent from showering the actress with praise. During an interview on The Ellen DeGeneres Show, he revealed that he had harbored this crush for years. Mirren has been married for over two decades, but we're sure even she is flattered by all the admiration she's been receiving.
Emilia Clarke on Matt LeBlanc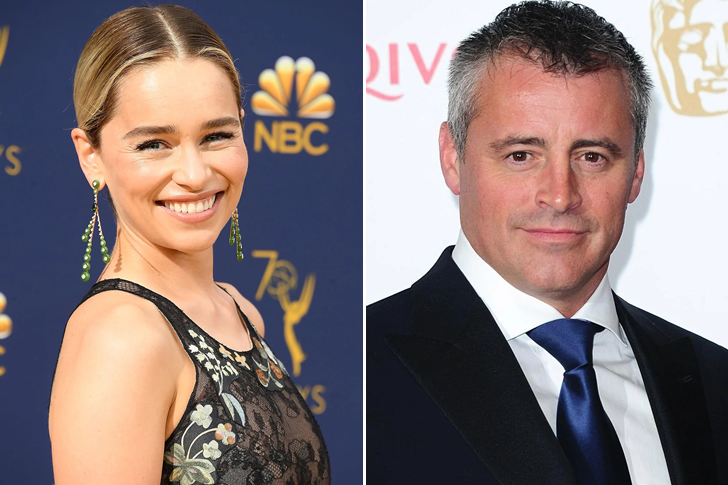 I guess we can all call Emilia Clarke one very successful fan after meeting her childhood crush Matt LeBlanc. The two appeared as guests on The Graham Norton Show, and from the get-go, it was clear that Clarke was very distracted by LeBlanc's presence. Who wouldn't be? After all, he was one of the biggest heartthrobs of the 90s! The actress couldn't help but fangirl over the actor, telling him that she thought he was "wicked" before leaning in for a quick hug.
Funny enough, she was not the only guest who was happy about the actor's appearance on the show. Kate Beckinsale also confessed that her teenage daughter is obsessed with the show Friends, which starred LeBlanc in as Joey Tribbiani. It may have been decades since the sitcom ended, but it's clear that the actor still has that electricity he is well-known for!
Selena Gomez on Billy Crudup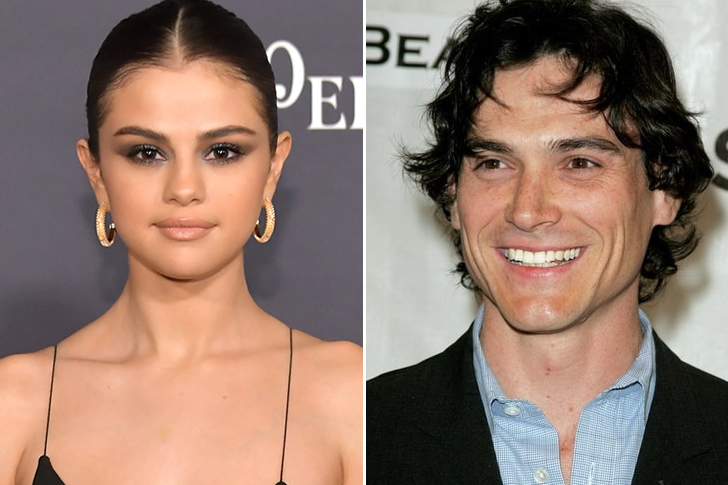 Actors Selena Gomez and Billy Crudup got to work together on the 2014 Rudderless. They have since established an adorable friendship between them, but did you know that Gomez already harbored a crush on the seasoned actor prior to making the film? The former Disney star confessed that she had an "Almost Famous phase," pertaining to the 60s-inspired rock and roll film starring Crudup. We certainly relate to this, considering how charming his role as guitarist Russell Hammond in the movie. To his credit, Crudup made it easy to fall in love with the character.
At that point, however, she never admitted the crush to him in person. Though we're sure, he later finds out following the release of her interview. The pair showed great chemistry in Rudderless, too, so we're hoping that they get to work on another project again soon!
Kim Kardashian on Johnny Depp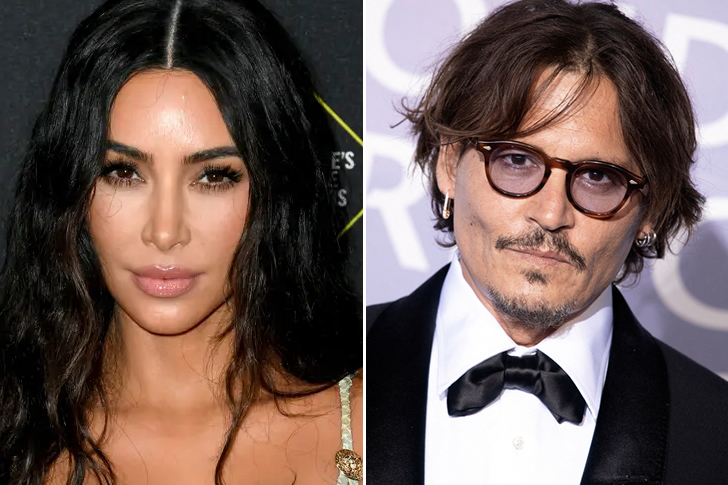 At this point, it shouldn't be surprising to learn that many famous celebs once had or still have a crush on Johnny Depp. Kim Kardashian is just another on the long list of stars who have admitted to swooning over the gorgeous actor. Her reason? She loved his long hair, style, and the fact that he carried himself with an air of mystery. During an appearance on Ellen DeGeneres' YouTube program Ellen's Show Me More, the reality-TV star was placed on the hot seat and given questions about her life.
When asked about her first celebrity crush, Kardashian did not hesitate to reply with the actor's name. She even went on to admit that she had been "obsessed" with him. Considering how different Kanye West is from Depp, we can't help but wonder what he thought of her confession. Kim sure deserves some credit for being upfront about it.
Ashton Kutcher on Jennifer Aniston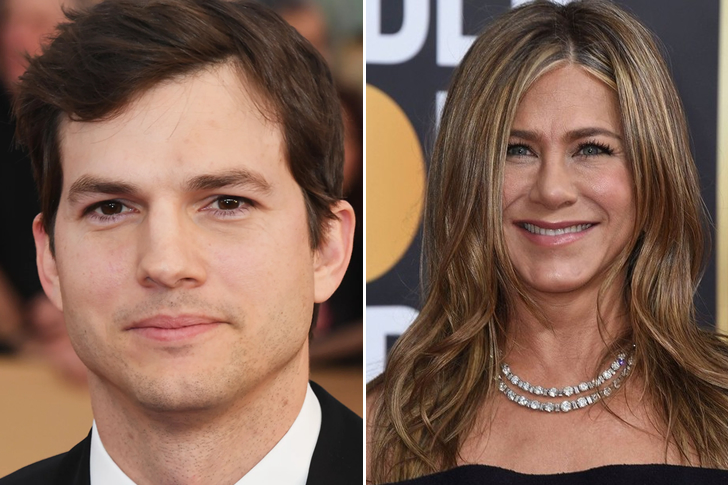 Friends was one of the most popular shows during the 90s, and it helped catapult its main stars into public recognition. That is one reason why they are consistently ranked high when it comes to people's first celebrity crushes. Just take Jennifer Aniston, for example. Even today, many still consider her as one of Hollywood's most attractive women. Ashton Kutcher has had the opportunity to be with some of the industry's most beautiful, and he couldn't help but blush at the mention of his childhood crush Jennifer Aniston.
During an appearance on The Graham Norton Show, he admitted that he even used her photo as a computer screensaver! He also once had the chance to ask her out on a date, with her then-husband Brad Pitt's permission, but she turned him down. Had she said yes, we don't doubt he would have taken out loans just to ensure the perfect date.
Lucy Hale on Steve Carell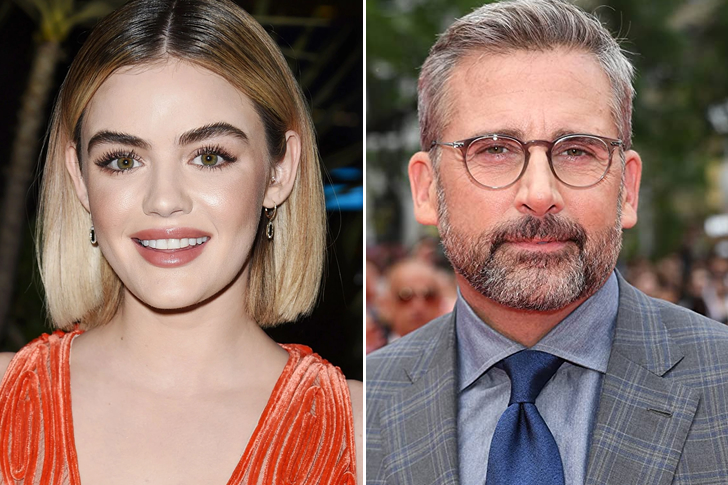 Pretty Little Liars star Lucy Hale once spoke to Lucky Magazine about her own celebrity crush. It might surprise you to know that the actress considers comedy actor Steve Carrell as her dream man. It just goes to show that it's the funny guys who always get the last laugh, not to mention the girl! Some might find them an unlikely pair, but if you've ever seen The Office or any of Carell's films, then you'll know what the actress finds attractive about him.
He may not have the same degree of handsomeness as George Clooney, but he has his own distinct charm! Hale isn't the only actress who has expressed love for Carell over the years. Emma Watson has also spoken about how much he admired Hollywood's favorite funny man. Needless to say, humor and intelligence in a man are a very desirable combination.
Chrissy Teigen on Alex Rodriguez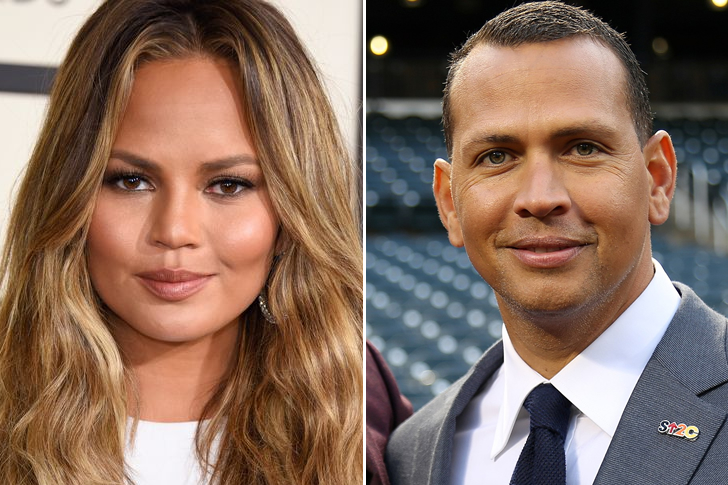 Ask Chrissy Teigen who her first real crush is, and the former model will not hesitate to admit that it was athlete Alex Rodriguez. She was still living in Seattle during the time he played for the team. However, Teigen was only 18 or 19 at the time and did not the chance to see A-Rod in person before. Nonetheless, Teigen confesses that she found him very attractive. The two never crossed paths until much later, and by then, Teigen was already married to singer John Legend.
So, how did that first meeting go for her? Well, suffice to say, it was very awkward. She spotted him at Soho House, visiting on the same day as her. We're sure she would have been happy enough just to see him from a distance, but her husband had to bring up her former crush. We would have melted to the flooring had we been in her shoes!
Amy Adams on Robert De Niro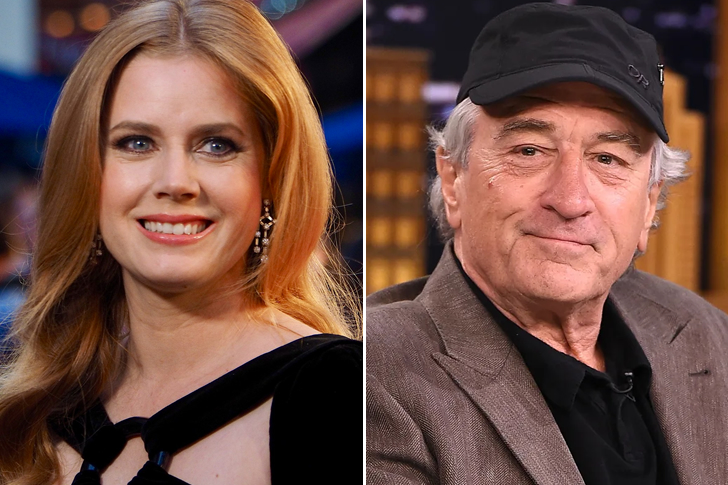 Regardless of his age, it seems Robert De Niro will always be appealing to the ladies. Actress Amy Adams learned this first-hand after she watched The Godfather for the first time. In an interview on the Jimmy Kimmel Live show, Adams spoke about how she has been binge-watching classic films from the 1960s and 1970s. When she finally got around to The Godfather I and II, it sparked a retroactive crush on De Niro. While others would have fallen for the degree of talent in his performance, Adams was more focused on other things. Particularly his dusky good looks.
Even funnier is how the actress describes her "feelings" towards the much older actor. In her defense, she developed a crush on him back in the 70s, but not in the present, when she is happily married to Darren Le Gallo.
Chelsea Handler and Adam Cuomo
For Chelsea Handler, her crush on Governor Andrew Cuomo isn't because of his looks or charm. Instead, the host gives credit to how he has handled different challenges, saying that he had every mark of a capable politician. She even went on to compare him to the Incredible Hulk with the way he "swooped in" and showed the state of California some much-needed grit in leadership. While Handler is known for her candid nature, it is still surprising to learn that she took a shot at asking the politician out on a date.
He responded with a "yes," but the host had not heard from him since. Considering his line of work, he is most likely swamped dealing with different issues and simply forgot about the message. It is not the nicest way to end contact, but it makes for a fun cliffhanger to their encounter!
Sam Smith on Shia LaBeouf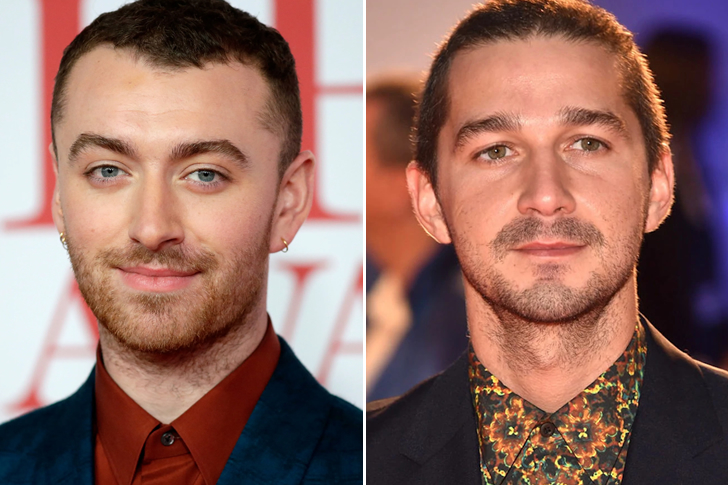 Global pop sensation Sam Smith has been quite open about many things about his life. From the discomfort he feels about being misgendered by the media and the struggles that come with identifying as nonbinary. While not entirely an open book, Smith is also fairly candid when it comes to romance. Most recently, the singer spoke about the celebrity who has caught his eyes lately. In an interview with SiriusXM, Smith admitted that he found Transformers star Shia LeBeouf very attractive and "so fit."
As for taking things a step further, Smith was also quick to deny any possible rumors of a relationship between the two of them. The singer firmly said that things would likely stay as a one-sided crush, noting that he believes LeBeouf isn't gay. Besides, we're sure Smith would rather make investments in a certain relationship instead of "Dancing With a Stranger."
Noah  Schnapp on Zendaya
During an appearance on The Tonight Show, Starring Jimmy Fallon, Stranger Things star Noah Schnapp opened up about finally meeting Zendaya. The actor admitted that he had been harboring the biggest crush on the actress, and it's evident that he was pretty starstruck about seeing her in person. Schnapp talked about how nervous he had been and how Zendaya had towered over him. While some people might find such a big height difference a little embarrassing, Schnapp fondly recalls the moment as "cute" and that he remembers everything about the moment!
On the other hand, Jimmy Fallon had his own perspective on the story. The Tonight Show host jested that he was actually in the middle of interviewing Schnapp when the latter ditched him to go over to Zendaya! We can't blame Schnapp for racing across the flooring and grabbing the opportunity.
Sophie Turner on Matthew Perry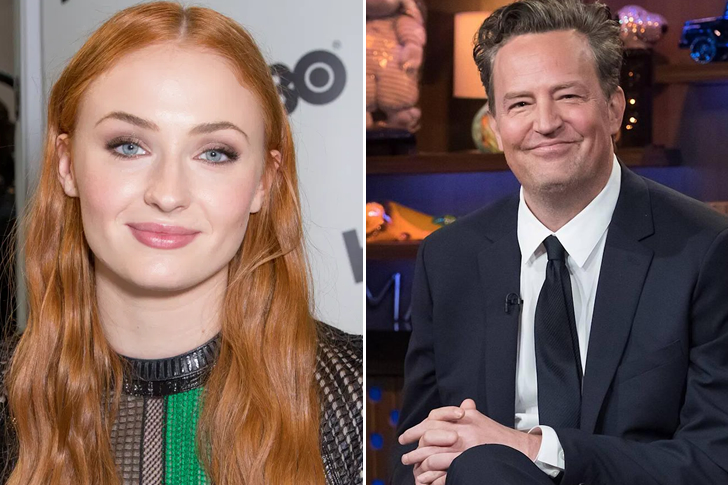 Sophie Turner might be happily married and enjoying life with their firstborn, but back when she was still single, the actress did not hesitate to take her chance with Matthew Perry. In one interview, she looked back when she would spot the actor enjoying a smoke break while she was on her way to the supermarket. Ever the fearless girl, Turner even went as far as purchasing a lighter so she could offer him light the next time she spots him. However, as bright as her flirting method was, it didn't quite pan out as hoped because Perry had already lighted his cigarette.
If you think Turner gave up after that mishap, then you're wrong. The actress took to Twitter to "shoot her shot," hoping Perry would see her post and get in touch with her. It didn't work out, but Turner certainly deserves credit for her enthusiasm!
Cole Sprouse and Jennifer Aniston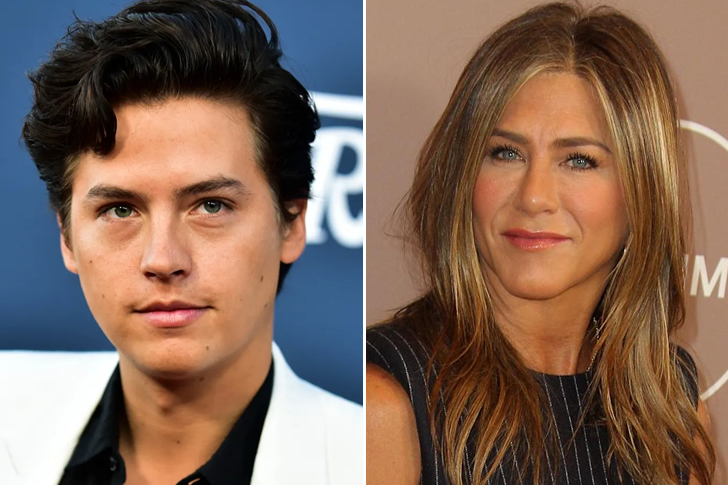 Cole Sprouse and Jennifer Aniston were co-stars on the famous TV show Friends. Even back then, the actor admitted that he already had quite the crush on her. In fact, Sprouse said that this made it "quite difficult to work in front of her." Sounds cute, right? What's even more adorable is that he was just a little boy who played David Schwimmer's son on the show during this time! The then-young actor's crush was also a well-known fact among the crew, and they did not hesitate to tease him about it.
Are we even surprised that even kids are enamored with the actress? After all, she is one of Hollywood's most beautiful and charming leading ladies. Now that he's much older and had done more investment planning toward his work, we wonder how it'd feel like for him acting with her again. Probably not as awkward, but no less adorable!
Simone Biles and Zac Efron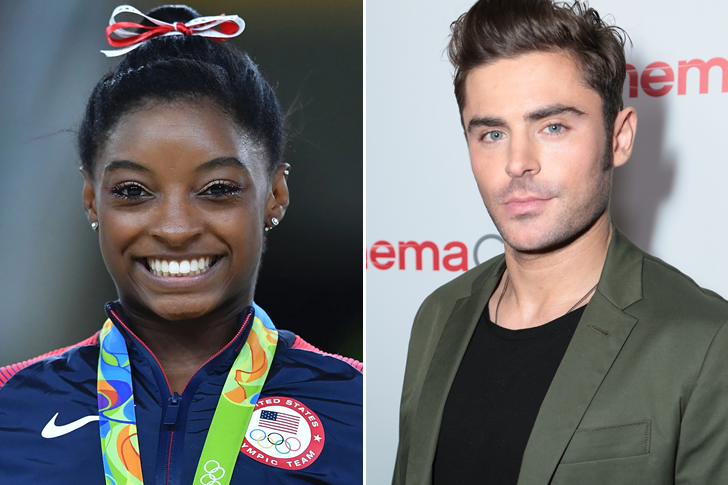 Back in 2016, Olympian Simone Biles didn't just win four gold medals and a bronze. This talented athlete also got the opportunity to meet her celebrity crush, Zac Efron! Now, while we're sure many would think that medals far outweigh this, Biles certainly thought otherwise as she had been crushing on him for quite a while now. In fact, she even admitted to owning a cardboard cutout of the actor in her room! As for the meeting, it certainly was a surprise on her part.
Organized by Today Show's Hoda Kotb, it was Biles' reward for doing so well during her floor routine at the Olympics. The two have been exchanging tweets on social media before the encounter, so it must have been another sweet victory for Biles to meet him face to face finally. No amount of investment money can top that, in our opinion.
38.Bella Thorne on Kristen Stewart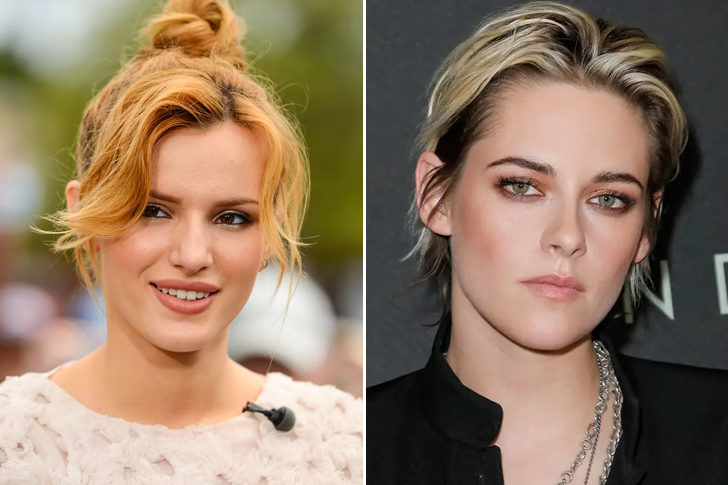 In an interview with Harper's Bazaar in 2016, Bella Thorne spoke openly about her bisexuality and the type of girl she would love to date if given a chance. Who is her biggest celebrity crush? It's Twilight actress Kristen Stewart. When interviewers brought up the subject, Thorne couldn't help but gush about Stewart, describing the latter as "the raddest chick," and we can't help but agree. The two have plenty of similarities, including a carefree attitude when approaching stardom and leading lifestyles, often seen as breaking away from the usual Hollywood mold.
However, Thorne did say that she is also in no rush to get into a relationship. In fact, she thinks of it as being too complicated and prefers monogamy over casual dating. After all, there is some degree of pressure in finding love when one is always in the spotlight.
Dylan O'Brien on Chloë Grace Moretz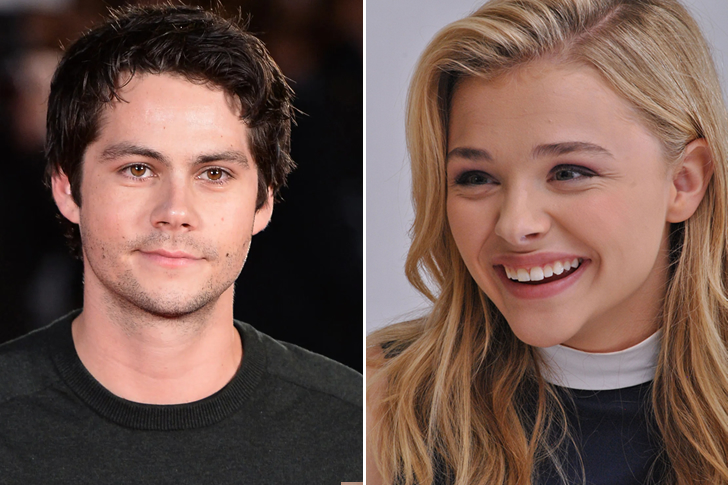 Here's a cute little story that will give you a bit of courage when confessing to your crush. Back in 2011, The Maze Runner star Dylan O'Brien got asked about his celebrity crush. The actor did not hesitate to name Chloe Moretz during the interview, noting that she is one of the "coolest chicks" he had ever seen. However, at that time, Moretz was only fourteen, while Dylan was already nineteen. To avoid controversy, the actor quickly retracted his statement but admits that he still thinks of her as a very talented actress.
Well, fast-forward some seven years, and the two finally went out on a date in Los Angeles. While there was never any confirmation from either side about whether or not they dated each other, fans cannot deny that there is electricity between both artists. We guess only time will tell when it comes to this pair!
Jennifer Lawrence on Larry David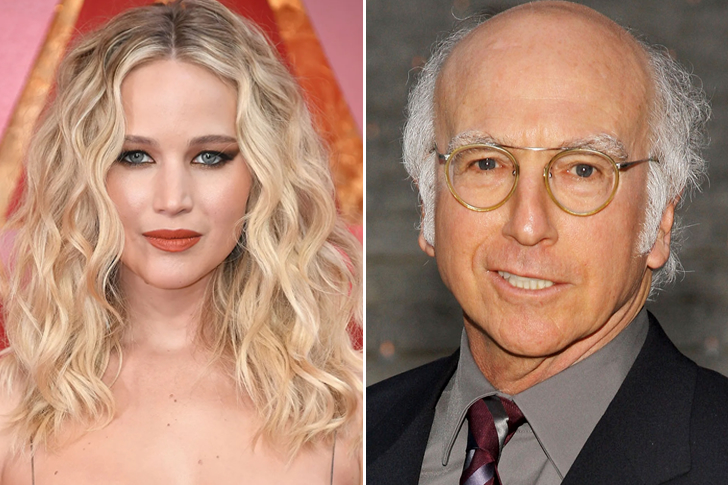 They might seem like an odd couple to some, but once you realize how adorable they are with each other, you'll definitely change your mind. While Jennifer Lawrence and Larry David aren't a real couple, they certainly have quite the chemistry between them. This is something that even Lawrence admitted when she confessed to having a crush on the older actor. In fact, she went on to tell Vanity Fair that he was her biggest celebrity crush.
Lawrence revealed that she has been "in love with him" for a really long time. As for David, he responded in jest when he first found out about the crush. The actor was obviously flattered. After all, Lawrence is one of the most beautiful women in Hollywood with extraordinary talent to boot. To his credit, though, his wit and humor are really something most girls would fall for.
Jack Black on Amy Poehler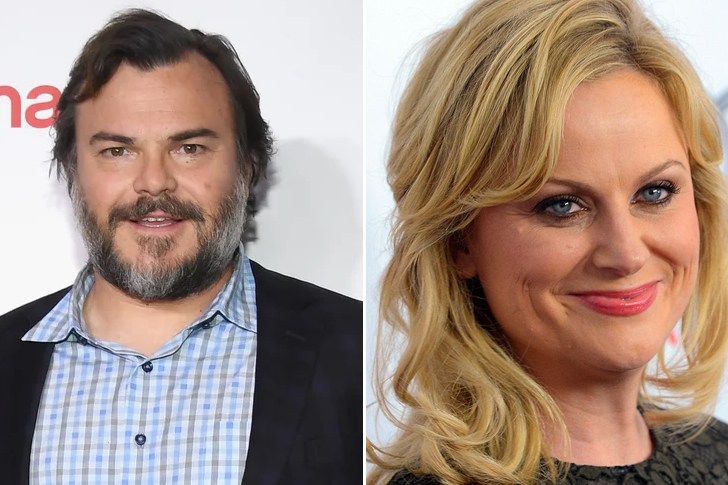 Jack Black and Amy Poehler are two of the foremost figures in the world of comedy. They have managed to establish a career for themselves, not just by making people laugh but also because of their intelligent humor. Each has legions of fans who anticipate their every new project, so it won't be that big of a surprise to learn that they have quite a few celebrity admirers as well. Perhaps, most unexpected is Black's crush on Poehler herself. The two have worked with each other before, and while electricity was there, this little tidbit still surprises many!
According to Black, he finds Poehler simply incredible and that he had liked her ever since he saw her do a sketch on the Conan O'Brien Show! The Jumanji star also goes on to say that he finds her sense of humor very attractive.
Lena Dunham on Jimmy Fallon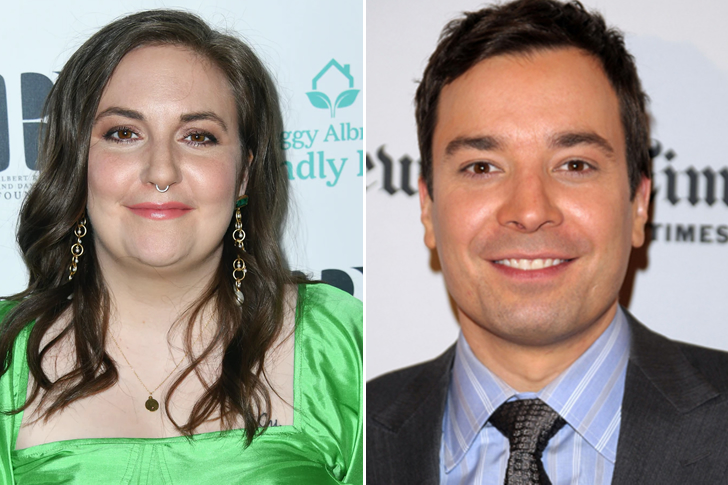 Perhaps "obsessive" may not be the best way to describe one's crush, but Lena Dunham feels this way toward host Jimmy Fallon. When she appeared on the show, Lena expressed how big of a deal it was for her to get invited. After all, the writer had been harboring this secret crush ever since she was in high school. Like a true fangirl, Dunham told Fallon that she had many things to say to him, some she had meant to do so for years! Whether or not Lena said this in jest, her words certainly drew quite a laugh from the crowd.
We're sure many could relate to the degree of awkwardness she had during the entire interview. Fortunately, Fallon was a gracious host and took everything in stride. He couldn't help but feel flustered as she continued with her confessions, however, including a play she had written where they switched bodies!
Rebel Wilson on Channing Tatum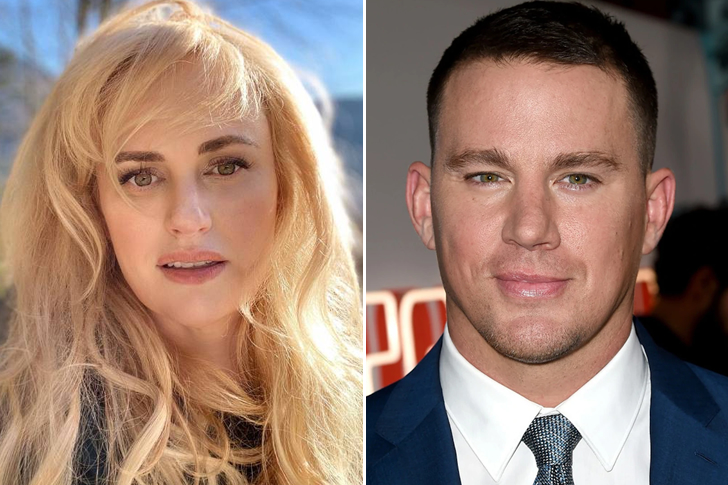 Actress Rebel Wilson has won over people worldwide with her charm and has landed several notable roles along the way. While she is doing quite great when it comes to career, she has been keeping a secret for some time now. The Pitch Perfect star is actually crushing on Channing Tatum! While this shouldn't surprise many, considering he is one of the most bankable and sought-after leading men in Hollywood, it still is adorable to find out. Did you know that these two even co-hosted an MTV Movie Awards show? We wonder what that was like for Wilson!
At present, Wilson is currently enjoying single life. The 40-year old actress may have ended things with her partner, but we're glad it didn't involve lawyers. Who knows? She may not end up with Tatum, but we hope she finds the right one for herself soon!
Margot Robbie on Joaquin Phoenix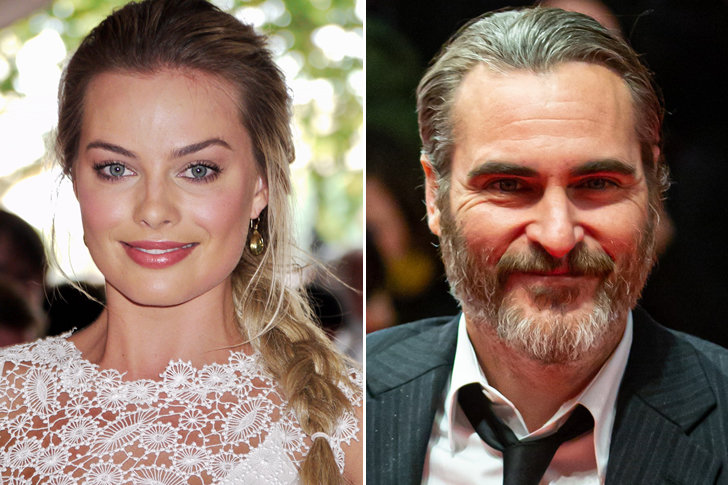 It's like something straight of the DC Universe, Harley Quinn falling for the Joker! In reality, however, we're talking about talented actors Margot Robbie and Joaquin Phoenix, who both recently made waves with credit to their portrayal of Gotham's most devious pair. In an interview, Robbie talked about what her ideal man is like. She describes someone rugged, has a beard, and maybe a few tattoos. The finishing touch? The actress says that she finds hair lips very attractive. She might as well have just said Joaquin Phoenix's name out loud!
The actress met him while in rehearsal for the Golden Globes. Well, she didn't really meet the actor, but a cardboard cut-out of him that was right near where she was supposed to sit. We mean, wouldn't you do the same if you had the opportunity? Robbie took hers and gave the cutout a tiny smooch before turning to her duties.
Carlo Valdes on Olivia Wilde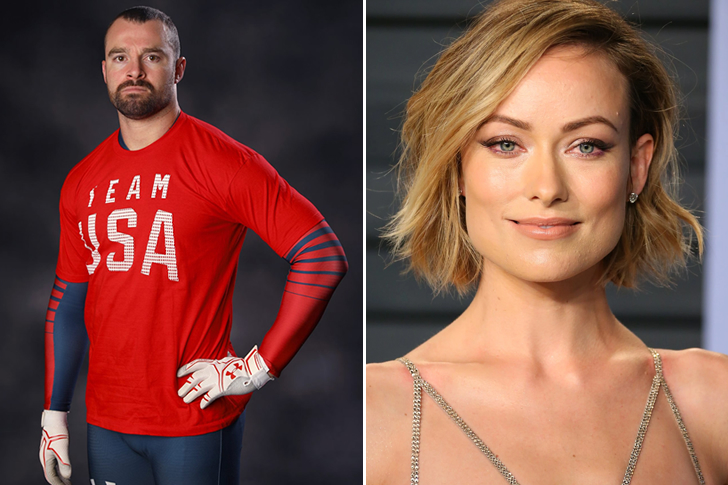 A decathlete, Carlo Valdez has played in football, track, and field and bobsledding. He was a wide receiver for football until he switched over the track and field. He then spent the remaining of his time in UCLA playing javelin. We can say that Valdez is indeed an athlete of many skills. He credits discipline and practice for his success in these sports.
Somehow, that long list of sports he is good at has translated to real life. Valdes admits to a long list of celebrity crushes, including fellow athletes Camille Leblanc-Bazinet, whose toned body is an inspiration for those interested in CrossFit games, and Lara Gut, an Alpine ski racer. He is also pining for Kate Beckinsale and Jessica Biel, two of the prettiest celebrities out there. Perhaps of note is Olivia Wilde, who played Thirteen in the medical series House, MD.
Chloe Kim on Zayn Malik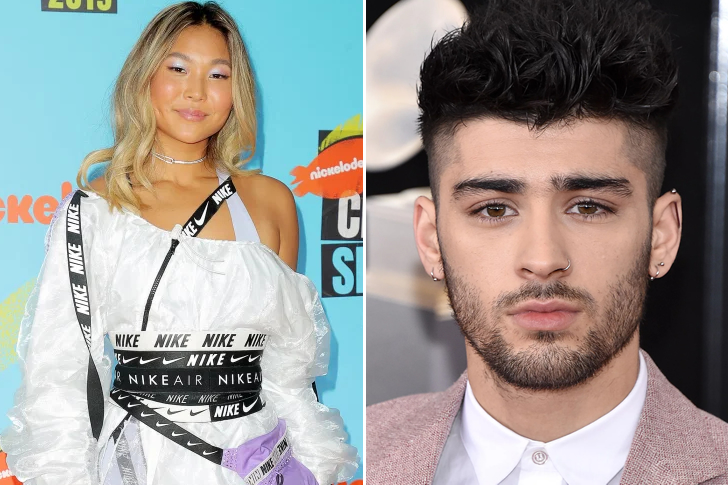 Chloe Kim is the current World, Olympic, Youth Olympic, and X Games champion and the first to win all four titles at once. That is some record for the American snowboarder. She is also given credit as the youngest woman to win a gold medal in the Olympic snowboarding competition. Time magazine listed her as one of the most influential people in 2018. Besides that, the decorated athlete is also on her way to getting a science degree from Princeton University starting 2023.
While Kim seems like a mature woman when competing, she is still a 21-year-old girl who has crushes, and as it turns out, the athlete likes heartthrob Zayn Malik. The two have not met just yet, but Kim was ecstatic and hoped that she could meet the English singer when asked about it. With Zayn traveling extensively, that might be possible. What would her reaction be once they meet?
Chris Mazdzer on Mila Kunis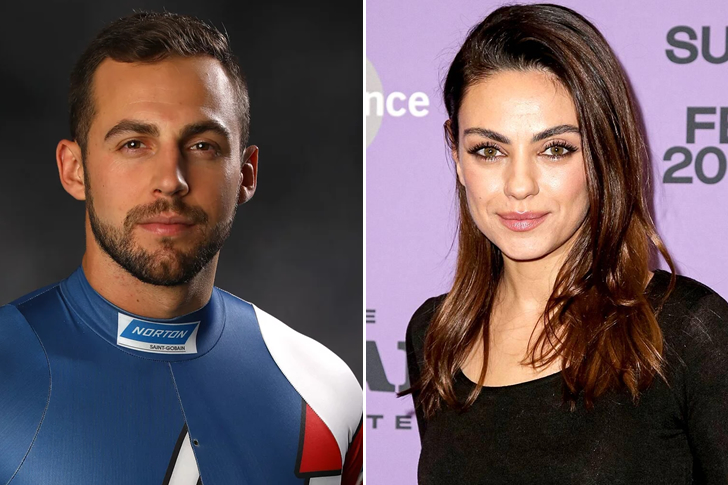 So far, the only non-European to win a medal in the Men's Single Luge, Chris Mazdzer, has also finished 13th in both the 2010 and 2014 Olympics. He is not only talented in the tracks but also on the dance floor. Mazdzer joined the 26th season of Dancing with the Stars and partnered with dancer Whitney Carson then. While judges eliminated them on the third week, Mazdzer has planted the seeds and made investments in a potential Hollywood career.
When asked who his celebrity crush is, the athlete was quick to say it was Mila Kunis. It does not come as a surprise, as the Friends with Benefits star is indeed pretty. The two have not met yet, but he badly wanted to. They could probably meet on a friendly date one day, but we would expect Ashton Kutcher to be tagging along, along with their two children.
Jessie Diggins on Nina Dobrev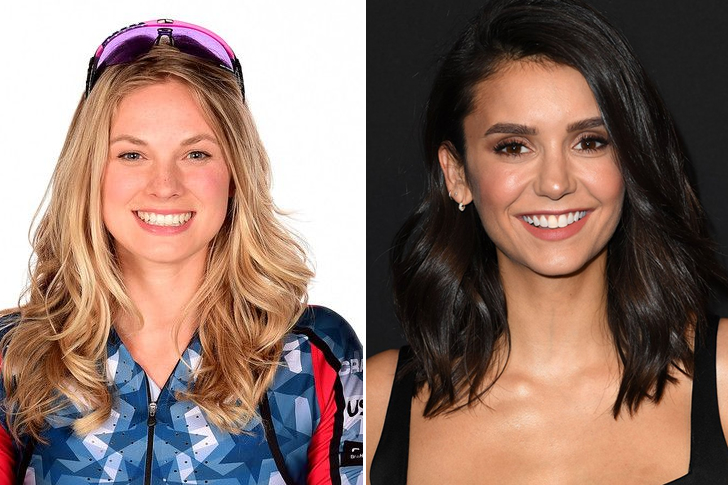 Together with teammate Kikkan Randall, Jessie Diggins won the first-ever country skiing gold medal for the US during the 2018 Winter Olympics. As a cross country skier, Diggins has undoubtedly made a name for herself. The athlete even wrote an autobiography detailing her athletic accomplishments and her personal health struggles in 2020. Just this March 2021, she grabbed the top place in the women's category of the 2020-2021 FIS Cross-Country World Cup.
Diggins revealed that her celebrity crush is Canadian actress Nina Dobrev, who rose to prominence after portraying Katherine Pierce and Elena Gilbert on The Vampire Diaries. Apparently, this series is what drew Diggins to Dobrev as she considers her a badass. Interviewers also asked her to share who she wanted to see her play among the famous people, and she answered Barack Obama. Well, can we expect the lawyer and former president Obama to pop in one day?
John Daly on Amber Heard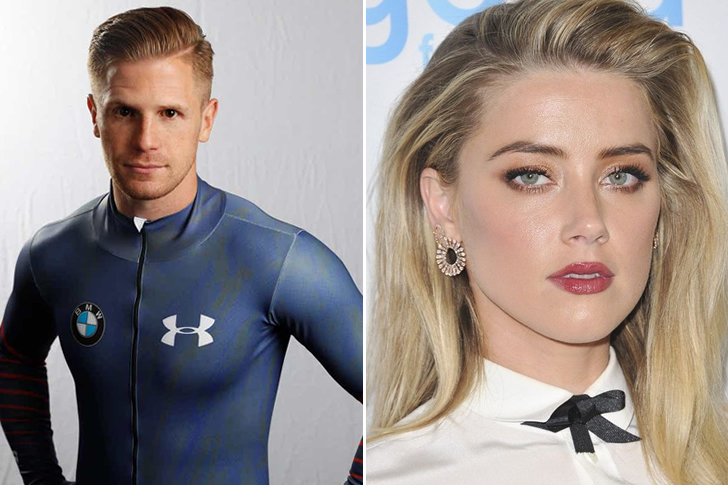 What exactly does a skeleton racer do? John Daly would definitely love to explain how it works and clarify that no skeletons are involved but rather a bobsled. He has been competing for this sport competitively since 2001 and has won the World Cup multiple times. With his fame inching up, he might want to consider installing a home security system if he does not already have one.
We all know that Amber Heard is undergoing a rough patch right now, and Daly might just be there for her at the right time. The athlete had admitted without batting an eye that he likes the actress. Who knows, perhaps once the dust settles down, they could go on a date together and talk about sports and acting. Amber might even give tips on acting, and Daly could transition to be an actor someday. Who knows?
Julia Marino on the Sprouse twins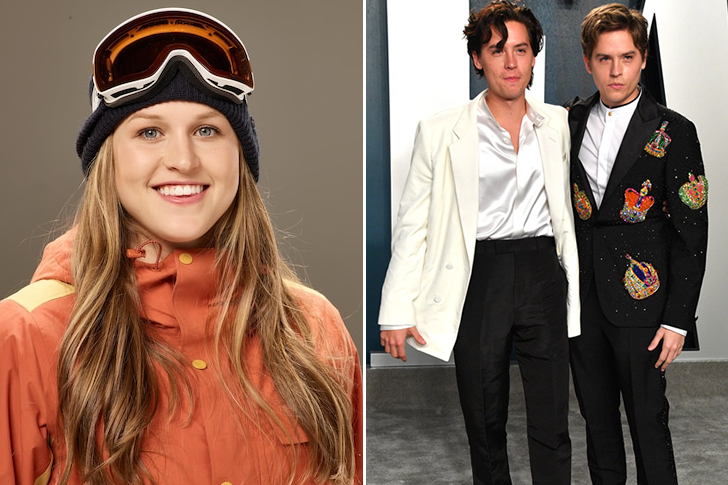 The halfpipe and slopestyle disciplines are Julia Marino's areas of expertise, and she has shown how she could ace freestyle skying. Competing since 2010, the athlete is well-experienced. Unlike many dual national athletes, though, Marino initially played for the US and then switched to her native country of Paraguay after winning a silver medal in the 2013 World Cup slopestyle. This decision led to her being the first Paraguayan to represent the country during the 2014 Winter Olympics.
Marino revealed that she has a liking for not one actor but two – the Sprouse twins Dyan and Cole. They are almost of the same age, so it is not a surprise at all. The Sprouse twins are beautiful and wealthy too. Marino also shared that she wanted to see Millie Bobbie Brown in person, as she considers her role in Stranger Things as super cool. Well, given Brown's incredible degree of dedication to acting, we could only expect great things from her.
Marai Nagasu on Johnny Depp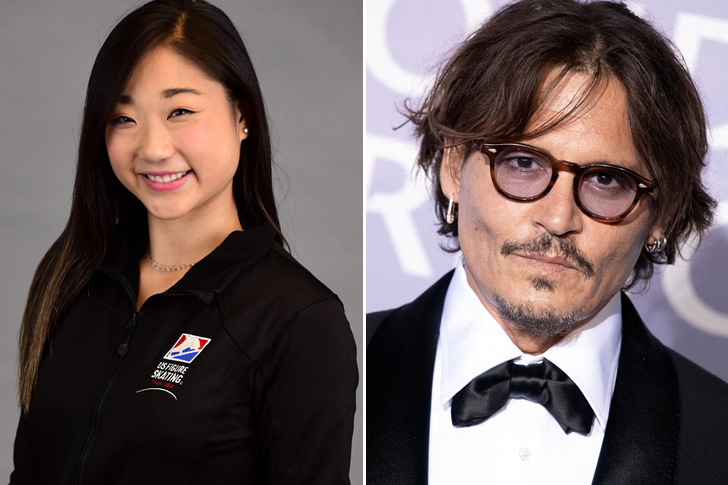 An athlete who considers herself an old soul, Marai Nagasu, a Japanese-American figure skater, has won the Four Continents three times – in 2011, 2016, and 2017. She also became the youngest woman, after Tara Lipinski, to win the US senior ladies' title. At 16, she already represented the US in the 2010 Winter Olympics, a massive success for Nagasu. Her strength is in her spinning ability, with expertise on her own variation of the Biellmann spin.
If someone is crushing on Amber Heard, it is only normal for others to like Johnny Depp, too. Nagasu is one of them, and at the time of the interview, she was excited that Depp would appear as Grindelwald in Fantastic Beasts. Sadly, that role has been taken from him, leaving him on the flooring with a significant career setback. Nonetheless, we can expect Depp to recover one day.
Mikaela Shiffrin on Chris Hemsworth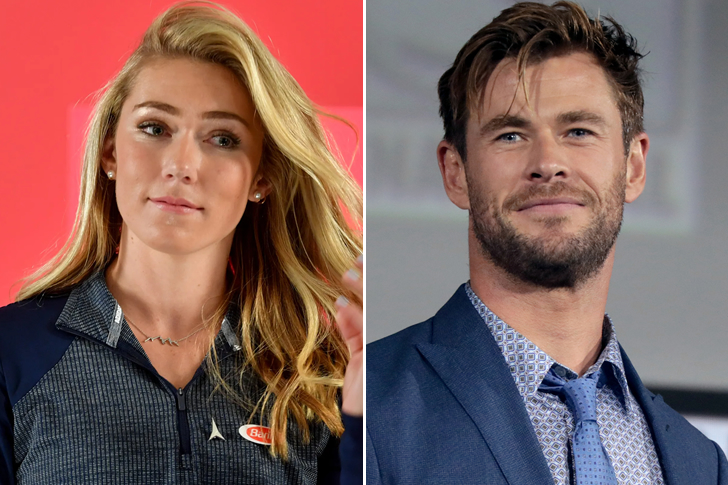 After winning in the Olympic alpine skiing competition, Mikaela Shiffrin became the youngest slalom champion in history. She also won the Overall World Cup championship three times, adding to her laurels. A quick look at her records would reveal who accomplished the athlete is. However, one of her best contributions to society was when she appeared on an hour-long show documenting her journey as an Olympian, along with six others. Those who watched it would certainly be inspired and make the necessary investments in practicing, just like she did.
When it comes to her personal life, Shiffrin shared that she has a boyfriend, but of course, she also has celebrity crushes. Realizing her boyfriend would probably get jealous, Shiffrin immediately issued a disclaimer when asked who that person is. She blurted out Chris Hemsworth, and no one was surprised. Hemsworth is easily one of the most likable actors in Hollywood.
Nathan Chen on Emma Watson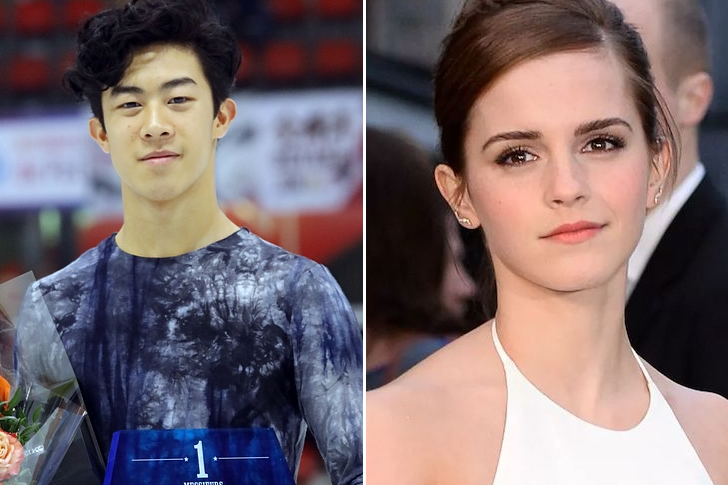 Undefeated since the 2018 World Championships, Nathan Chen certainly is one excellent figure skater. He has won the World Championship three times, in 2018, 2019, and 2021. He is also a five-time US national champion. It certainly helped that Chen was born to a well-off family as he did not have to resort to personal loans or have financial issues. That meant he also had enough time to practice his skills.
Though Chen did not grow up in the Harry Potter movie series, he admits to crushing on one of the movie's main characters – Emma Watson. I mean, who wouldn't? Watson has proven time and again that she can be a real-life Hermione Granger, with solid knowledge and not all talk. Many find that attractive, too. For example, several prestigious magazines named the Harry Potter actress among the most influential women in 2015.
Tucker West on Gal Gadot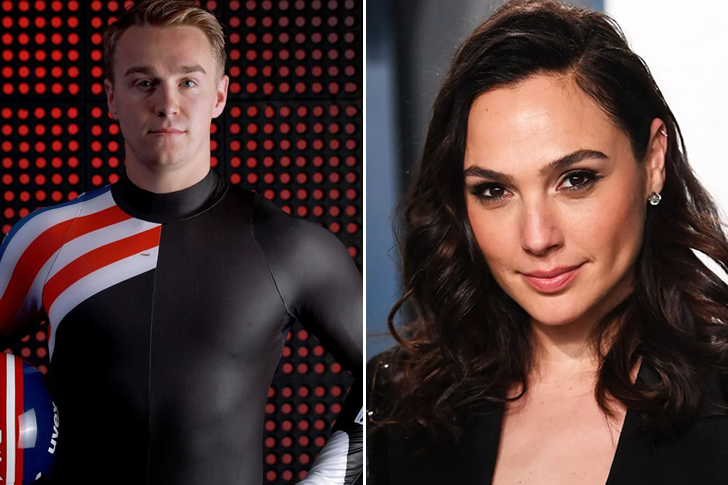 The youngest male to ever qualify in the men's luge at the Olympics, Tucker West made the US proud when he placed 22nd in the single men's competition. While some may see that rank as a failure, to a certain extent, it is a success because West managed to land a suitable ranking despite being a rookie to the Olympics.
Those who have watched Wonder Woman would agree that Gal Gadot is one impressive lady and superhero. West agrees so and has taken a liking for the famous actress. While critics have mixed reviews about the 2020 Wonder Woman 1984, Gadot's passion for acting has not dampened. West also has probably heard that recently Gadot chopped off the tip of her fingers while cooking, to the shock of her doctors and insurance providers as her husband threw the tip in the trash.
Joan Smalls on Angelina Jolie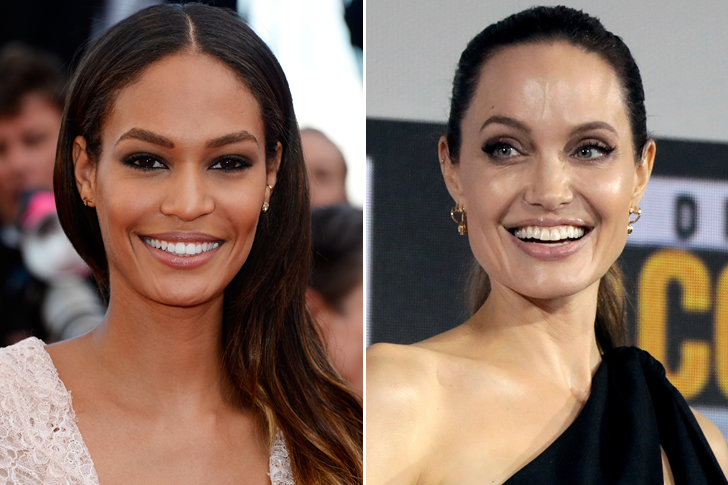 As the first Latina model to represent premium cosmetics brand Estée Lauder, Joan Smalls made history and money. The media even listed her as the world's highest-paid model for the first time in 2013, where she ranked number 8, with an earning of over $3 million. The year before, she got listed as the top model by Models.com. Her lawyers must be very busy reviewing all her contracts as she has a project for almost every high-profile brand like Givenchy, Chanel, and Prada.
In an interview, Smalls revealed that she likes Angeline Jolie. We supposed it is purely physical because she admired how her lips were sexy, but if Smalls and Jolie get to meet, for sure, she would love the actress even more for her character. Jolie is one of the most generous people out there, as evidenced by her philanthropic work, which is not just limited to the US but has also gone international.
Lily Aldridge on Jennifer Lawrence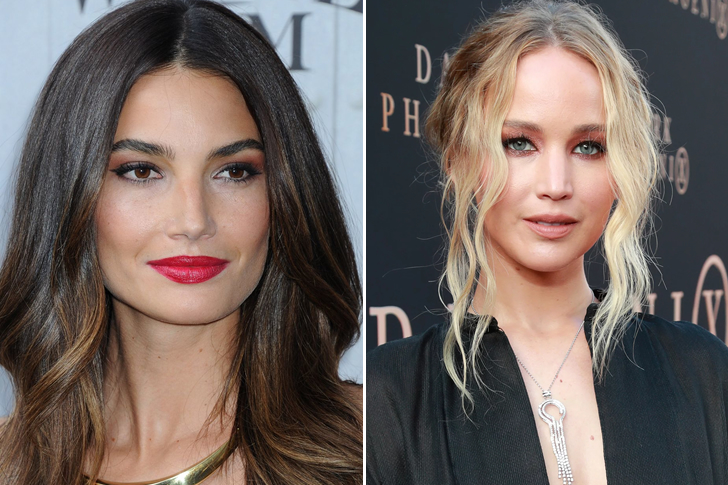 The 35-year-old Lily Aldridge is best known for being one of Victoria's Secret Angels from 2010 to 2018. She featured in the Sports Illustrated Swimsuit Issue along with fellow models Chrissy Teigen and Nina Agdal in 2014. Aldridge was born into fashion and modeling as she has a brother who is a fashion photographer and a sister who was the face of Marc Jacobs. That is why at 16, she already gained a degree of popularity within the modeling industry.
During an interview, Aldridge revealed that she has a huge crush on Jennifer Lawrence. She is straight as an arrow and married to Caleb Followill, but, understandably, she would get attracted to the lovely Lawrence. Who could blame her, though? The model considers the actress funny. She also believes having a great sense of humor is a desirable trait in a person.
Rosie Huntington-Whiteley on Rihanna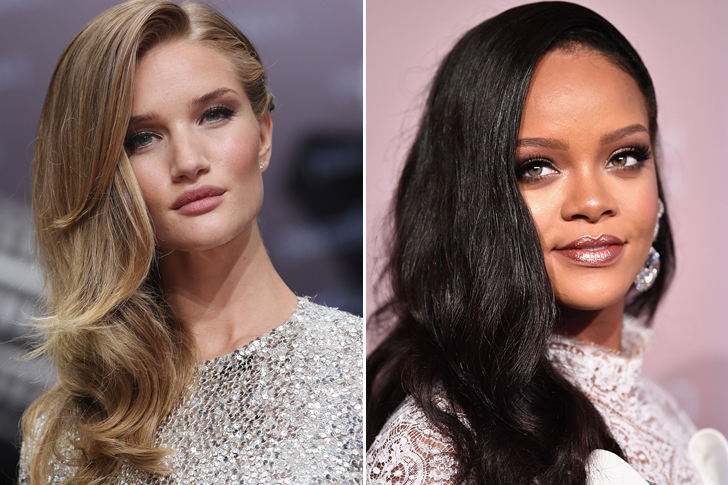 Victoria's Secret made the right investments when they asked Rosie Huntington-Whiteley to model for them. Her best work as a model was as an Angel. Many have also lauded Huntington-Whiteley for being the face of Burberry Body and her partnership with Marks & Spencer. Apart from being a model, she is also an actress best known for playing Carly Spencer in Transformers: Dark of the Moon. Four years later, she appeared on Mad Max: Fury Road.
Considering that Rihanna is beautiful and a great singer, it's not surprising to learn that the blonde model had harbored a crush on her. To show her support for her girl crush, the model even attended one of Rihanna's concerts. We can only imagine what they would be talking about when they meet. The singer, however, shares the spotlight with Kate Moss, who is also one of Huntington-Whiteley's crushes. Maybe the three of them could do a collab on YouTube!
Irina Shayk on Rihanna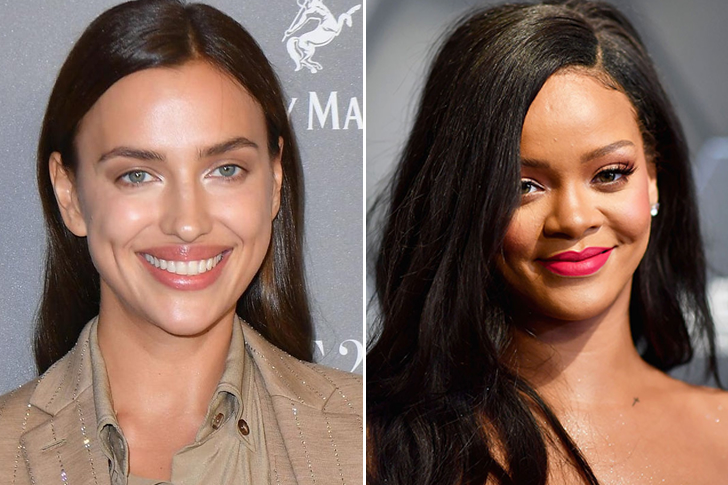 As the first Russian model to appear on the Sports Illustrated Swimsuit Issue in 2011, Irina Shayk has made history for herself and her home country, too. She has been ranked an Industry Icon by Models.com for her contributions. After doing swimwear work for a bit, Shayk switched over to high fashion modeling. Some of her credits and projects include being on the cover of Elle magazine in November 2010 and being awarded the Best International Model of 2010 by Glamour Spain.
It seems that Rihanna is a crowd favorite, with many fellow women crushing on her. Irina Shayk is no exception. We can name many good qualities of the singer, and her singing prowess will always be at the top of the list. Shayk liked her so much she even channeled her inner Rihanna during one of her walks in Fenty.
Emily Ratajkowski on Cate Blanchett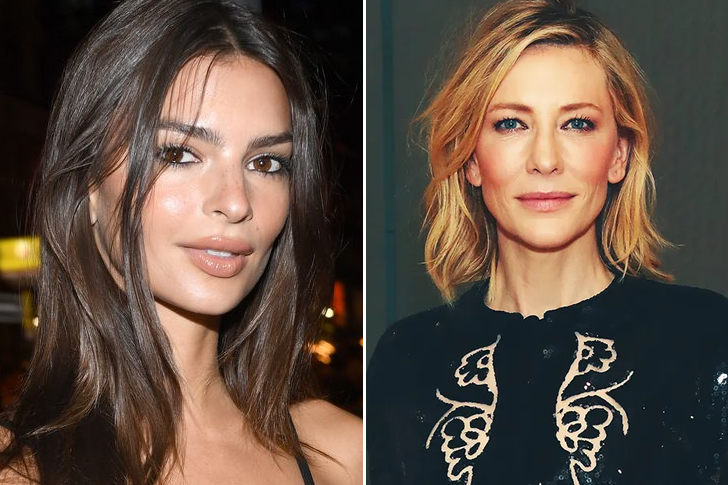 If there's someone Emily Ratajkowski wants to meet in the business, it's no hunky stars; it'll be Cate Blanchett. The 29-year-old model is not interested in the hottest actors in the industry but the A-list celebrities instead. She admits she's a big fan of the award-winning actress and Meryl Streep, too.
Emily says she will probably lose her control if she gets to meet Cate personally. Who wouldn't be? The 51-year-old actress has a long list of credits in the business. Fans and critics regard her as one of the greatest actresses, thanks to her versatile acting skill. Name a role, and she can do it. The Ocean's 8 star has also dominated different theatre productions and received several accolades to compensate for her excellent talent. It's easy to see why Emily is fangirling, if not crushing, over Cate.
You've Reached The End